Online:The Final Order
The UESPWiki – Your source for The Elder Scrolls since 1995
This page is currently being rewritten as part of the Online Quest Project.
The page is being both written and checked. All users are welcome to make changes to the page. If you make a change that is relevant to the project, please update this template accordingly, and make sure you have observed the project guidelines.

| | |
| --- | --- |
| | Protect a valuable ally from Euraxia's loyal assassins. |
Before we killed the Usurper Queen, Euraxia issued a final order. We need to ascertain what she ordered her soldiers to do and see how it connects to the plans of the Dragons and the necromancers.
Quick Walkthrough
[
edit
]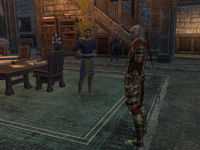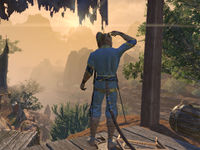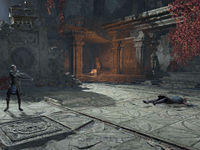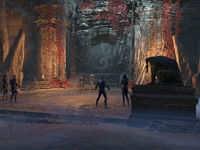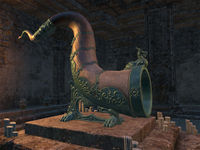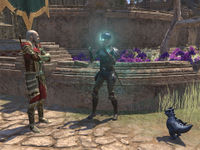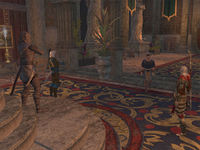 Assist Abnur Tharn in the study.
Meet Abnur Tharn at Sandswirl Manor.
Infiltrate the manor.
Talk to Prefect Calo.
Read the document and talk to Abnur Tharn.
Meet Zamarak at The Stitches.
Find your way to the Dov-Vahl Shrine.
Fight your way through and defeat Captain Saulinia.
Talk to Dragonguard Orland.
Take the dragonhorn.
Detailed Walkthrough
[
edit
]
Quest Stages
[
edit
]
The Final Order
Finishes Quest
Journal Entry
Khamira requested my presence at Rimmen Palace. I should go there and talk to her.

Objective: Talk to Khamira

I should locate Abnur Tharn in the royal study and see if he's learned anything about Euraxia's final order.

Objective: Talk to Abnur Tharn

I need to help Abnur Tharn search through the documents in the royal study to find out whatever we can concerning the Dragons, the necromancers, and the so-called final order issued by Euraxia just before she died.

Objective: Search the Royal Study

After we found a number of intriguing clues among Euraxia's papers, Abnur Tharn appears to have uncovered something significant. I should talk to him.

Objective: Talk to Abnur Tharn

Euraxia's final order appears to concern an assassination squad and troops stationed at Sandswirl Manor to the west of the city. I should meet Abnur Tharn on the outskirts of the property.

Objective: Rendezvous at Sandswirl Manor

I should talk to Abnur Tharn before we enter the grounds of the manor.

Objective: Talk to Abnur Tharn

I need to find a way into the manor house and meet up with Abnur Tharn so we can learn more about Euraxia's final order regarding the Dragonguard.

Objective: Find a Way Inside the Manor

Objective Hint: Talk to the Stable Hand

Objective Hint: Get the Cellar Key from Lieutenant Talia

(Alternate Way)

Objective Hint: Find the Cellar Key in the Well

I should explore the cellar and find a way to reach the main floor of the manor house.

Objective: Enter the Cellar

Abnur Tharn appeared before me as a magical projection. I should speak with him.

Objective: Talk to Abnur Tharn

Abnur Tharn wants me to look for Prefect Calo, who's being held somewhere in the manor house. The prefect should be able to tell us more about the Dragonguard and the final order issued by Euraxia.

Objective: Find Prefect Calo

I located Prefect Calo. He's locked in a cell. I should talk to him and get him to tell me about the Dragonguard and Euraxia's final order.

Objective: Talk to Prefect Calo

As a sign of good faith, Prefect Calo told me I can find a copy of his report on the Dragonguard in his office upstairs. I should read it and learn what I can.

Objective: Find the Dragonguard Report

The report indicates there might be a surviving member of the Dragonguard hiding in an Akaviri shrine in the Scar. I should find Abnur Tharn and tell him what I discovered.

Objective: Find Abnur Tharn

It seems Prefect Calo was able to extract himself from his cell without my help after all. He wants to speak to me.

Objective: Talk to Prefect Calo

Abnur Tharn wants me to go to the Scar and find the hidden Akaviri shrine. He said that he'd send someone to meet me in the Stitches. Meanwhile, he's taking Prefect Calo to Rimmen to discuss the possibility of an alliance.

Objective: Go to the Stitches

It looks like Abnur Tharn sent Zamarak to the Stitches to assist me. I should talk to him.

Objective: Talk to Zamarak

We need to track the assassination squad through the Scar so that we can reach them before they can carry out their order to execute the supposed last surviving member of the Dragonguard.

Objective: Track Down the Assassination Squad

I tracked the assassination squad to a door to an ancient Akaviri shrine. I should enter the shrine and try to find the so-called last Dragonguard before they kill him.

Objective: Enter the Hidden Shrine

I should search the ancient Akaviri shrine to find any sign of the Dragonguard or the assassination squad.

Objective: Search the Hidden Shrine

An ancient structure hidden in this cave features a massive door, but it appears to be sealed by some sort of magical barrier. Zamarak thinks the stone pedestal in front of the door might provide a way to open it. I should examine the pedestal.

Objective: Examine the Stone Pedestal

We heard the assassination squad shouting from deeper within this underground complex. I should search the passages and try to find them.

Objective: Search the Underground Complex

Optional Step: Talk to Zamarak

I heard Captain Saulinia call out from nearby. I need to find her before she reaches the Dragonguard.

Objective: Follow Captain Saulinia

I finally caught up to Captain Saulinia, the leader of the Euraxian assassination squad. I need to stop her.

Objective: Kill Captain Saulinia

The wounded Dragonguard ran off. I should follow him and find out if he's all right.

Objective: Talk to Dragonguard Orland

Optional Step: Talk to Zamarak

Dragonguard Orland gave me his signet ring. He said it would open the Dragonguard Sanctuary. I need to enter the sanctuary and find the Dragonhorn.

Objective: Open the Dragonguard Sanctuary

Optional Step: Talk to Prefect Calo

Now that the barrier is down, I should enter the sanctuary and claim the Dragonhorn.

Objective: Claim the Dragonhorn

Now that I have the Dragonhorn, I should return to Rimmen Palace and report to Khamira and Abnur Tharn.

Objective: Return to Rimmen Palace

I arrived at the doors to Rimmen Palace to find Abnur Tharn dealing with Cadwell. It appears Cadwell is having another one of his visions. Tharn asked me to check on him before joining him in the throne room for the war council.

Objective: Talk to Cadwell

The council meeting has ended and Khamira wants to talk to me. I should let her know what we found in the Dragonguard sanctuary.

Objective: Talk to Khamira