Online:New Moon Rising
The UESPWiki – Your source for The Elder Scrolls since 1995
This page is currently being rewritten as part of the Online Quest Project.
The page is being both written and checked. All users are welcome to make changes to the page. If you make a change that is relevant to the project, please update this template accordingly, and make sure you have observed the project guidelines.

Kaalgrontiid's plan to fulfill the prophecy of the Dark Aeon and become a god continues as he sent his island, Dragonhold, into the sky. Now we need to find a way to reach the island.
Quick Walkthrough
[
edit
]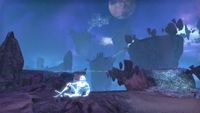 Talk to Khamira in the Dragonguard Sanctum.
Investigate Khamira's lead in Moonlit Cove.
Find the three fragments of the stone tablet.
Take Khunzar-ri's Claw and explore the Jonelight Path with your allies.
Destroy Kaalgrontiid's aeonstone focal points and confront him.
Escape Dragonhold and talk to Sai Sahan.
Detailed Walkthrough
[
edit
]
Quest Stages
[
edit
]
New Moon Rising
Finishes Quest
Journal Entry
Sai Sahan asked me to talk to Khamira. He thinks her portal magic may be our only option for reaching Dragonhold, but she's reluctant to try without Abnur Tharn's guidance.

Objective: Talk to Khamira

Khamira attempts to access the memories of Anequina she inherited during her attunement at the Shadow Dance Temple. She asked me to watch over her while she does this.

Objective: Watch Khamira's Attunement

Khamira emerged from her trance. I should talk to her and see if she knows what this "cavern of the Moon's sacred light' is and if it can help us reach the floating island of Dragonhold.

Objective: Talk to Khamira

Khamira believes that her ancestor, Anequina Sharp-Tongue, wants me to go to Moonlit Cove. Apparently, the answer to our dilemma can be found there.

Objective: Go to Moonlit Cove

I entered Moonlit Cove and met up with Sai Sahan. I should talk to him before we begin our search of the area.

Objective: Talk to Sai Sahan

Sai Sahan brought one last bit of news from Khamira. She wants us to find an ancient, hidden door somewhere in Moonlit Cove. I should look around.

Objective: Find the Hidden Door

Sai Sahan and I found the ancient, hidden door in Moonlit Cove. I should speak to him before we open it and see what waits inside.

Objective: Talk to Sai Sahan

The door refuses to budge. Sai Sahan thinks the missing tablet pieces might be some sort of key. I should try to find them.

Objective: Find the Missing Tablet Pieces: 0/3

Objective Hint: Find the Missing Tablet Pieces

I recovered the tablet fragments. I should return to the hidden door and see if I can repair the broken tablet.

Objective: Restore the Tablet

The restored tablet provided a riddle. Apparently the Khajiiti hero Khunzar-ri rests beyond the door. I should open the door and see what awaits us on the other side.

Objective: Open the Door

The door opened upon a large, hidden chamber. Could this be the final resting place of the hero Khunzar-ri? I should approach the sarcophagus at the far end of the chamber.

Objective: Approach the Sarcophagus

The ghost cat disappeared as I approached the sarcophagus. I should open it and see if what Khamira sent us to find is waiting inside.

Objective: Open the Sarcophagus

When I opened the sarcophagus, a spectral Pahmar appeared. Could that be the spirit of Khunzar-ri? I should talk to him.

Objective: Talk to Khunzar-ri

The spirit that claims to be the legendary hero Khunzar-ri told me to take one of his claws from his sarcophagus and present it to Khamira.

Objective: Take Khunzar-ri's Claw

The spirit of Khunzar-ri gave me a claw to present to Khamira. He opened a portal to take us back to the Dragonguard Sanctum. I should use the portal.

Objective: Go to the Dragonguard Sanctum

Now that I'm back at the Dragonguard Sanctum, I should find Khamira and present her with Khunzar-ri's claw.

Objective: Talk to Khamira

While Khamira studies the claw and searches her attuned memories, I should go check on Sai Sahan and make sure the Dragonguard is ready to do its part.

Objective: Talk to Sai Sahan

Khamira ran up and seems to have news. I should talk to her and see if she figured out what to do with Khunzar-ri's claw.

Objective: Talk to Khamira

Khamira opened a portal that she thinks will take us to the Jonelight Path. If she's right, we can reach Dragonhold from there. In case she's wrong, we're leaving the rest of the Dragonguard behind. Just in case.

Objective: Enter the Portal

Khamira's portal took us to the Jonelight Path. We need to walk the path to find where it connects to the floating island of Dragonhold.

Objective: Explore the Jonelight Path

We reached the top of the Jonelight Path and Khunzar-ri opened a portal. Dragonhold should be on the other side. We should use the portal.

Objective: Enter the Portal

Optional Step: Talk to Khunzar-ri

We reached Dragonhold. Now to talk to Khamira and determine how we're going to stop Kaalgrontiid from becoming the Dark Aeon.

Objective: Talk to Khamira

Nahfahlaar spotted a number of focal points around the island, aeonstones set up specifically to reflect and enhance Kaalgrontiid's power until it builds to a level to ignite his ascension. I need to destroy these focal points.

Objective: Destroy the First Dark Aeon Focal Point

I destroyed one of Kaalgrontiid's focal points on Dragonhold. I should find and destroy any that still remain.

Objective: Destroy the Second Dark Aeon Focal Point

I destroyed another of Kaalgrontiid's focal points. I should find and destroy any that still remain.

Objective: Destroy the Third Dark Aeon Focal Point

We destroyed the Dark Aeon focal points and stopped the flow of energy to Kaalgrontiid. Now we need to reach the Dragon and make sure he can't complete his ascension.

Objective: Reach Kaalgrontiid

We found Abnur Tharn. It appears he survived his time alone on the floating island. I should talk to him.

Objective: Talk to Abnur Tharn

Although we destroyed the focal points, Tharn believes Kaalgrontiid will try to go ahead with his ascension anyway. But if he makes the slightest mistake, he could unleash enough energy to destroy Elsweyr and maybe all of Tamriel. We need to stop him

Objective: Reach Kaalgrontiid

We reached the center of Dragonhold. Now I have to stop Kaalgrontiid once and for all.

Objective: Kill Kaalgrontiid

We defeated Kaalgrontiid, but now the island is shaking apart and the aeonstone containing all of the Dark Aeon energy is about to explode. I need to talk to Abnur Tharn about how we stop this.

Objective: Talk to Abnur Tharn

Khamira opened a portal. We should use it to escape Dragonhold.

Objective: Use Khamira's Portal

Khamira waits for me on the coast of Southern Elsweyr. I should speak to her.

Objective: Talk to Khamira

Khamira told me to return to the Dragonguard Sanctum and talk to Sai Sahan. She said she'd meet me there.

Objective: Go to the Dragonguard Sanctum

I returned to the Dragonguard Sanctum. I should talk to Sai Sahan and make sure everyone is all right.

Objective: Talk to Sai Sahan

I returned to the Dragonguard Sanctum and Sai Sahan wants to talk to me. I should see what he has to say.

Objective: Talk to Sai Sahan