Online:Moonlit Cove
The UESPWiki – Your source for The Elder Scrolls since 1995
"The caverns of Moonlit Cove support a wealth of unique flora and fungus. A naturalist could lose themselves in that place for days were it not for those uncouth brigands!" - Felixa Caprenia, Senchal's Naturalist in Residence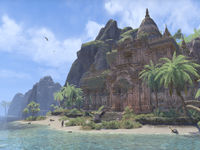 Moonlit Cove is a delve found along the far west coast of Southern Elsweyr. This former religious site was known for its sacred waters and diverse flora and fungi, before the Ruddy Fangs turned the site into a skooma distillery and polluted the water. Passive Moon-Kissed Jellies can be found floating around the caverns.
Sacred Waters of the Shining Sea can be found on some crates by the entrance. A copy of The Favored Daughter of Fadomai can be found on the wooden middle-height platforms in the open cavern full of rivers and waterfalls. A copy of Khunzar-ri and the Lost Alfiq can be found in the Tigershark's skooma den, exit-side. The Marriage of Moon and Tide can be found on a rock surface jutting out from the waterfall in the room near Bahzahar's Hideout. Elsweyr My Love, Page 5 can be found on a marked crate in the lower southeastern corridor.
Related Quests
[
edit
]
Clearing the Dungeon
[
edit
]
Explore and clear Moonlit Cove.
To clear this dungeon and mark it as complete, you need to kill the following bosses:
Achievements
[
edit
]
There are two achievements associated with this delve.
Gallery
[
edit
]