Online:The Usurper Queen
The UESPWiki – Your source for The Elder Scrolls since 1995
This page is currently being rewritten as part of the Online Quest Project.
The page is being both written and checked. All users are welcome to make changes to the page. If you make a change that is relevant to the project, please update this template accordingly, and make sure you have observed the project guidelines.

After learning that Mulaamnir the Dragon considers Euraxia, the usurper queen of Rimmen, to be nothing more than a puppet, Abnur Tharn believes parley is our best course of action—especially considering the current state of the Khajiiti army.
Quick Walkthrough
[
edit
]
Speak to Abnur Tharn in Riverhold.
(Optional) Accept Abnur Tharn's invitation of a tour of Rimmen.
Attend the meeting at Rimmen Palace.
Escape the Rimmen Palace sewers.
Make your way through the Desert Wind Caverns.
Defeat Lieutenant Lepida.
Talk to her spirit and listen to Zumog Phoom.
Return to Riverhold.
Detailed Walkthrough
[
edit
]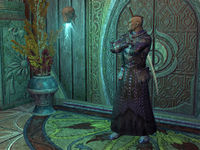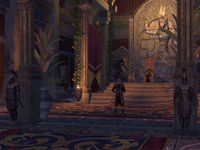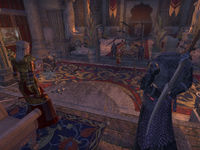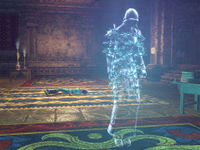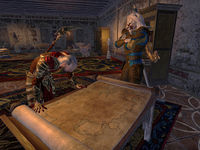 Quest Stages
[
edit
]
The Usurper Queen
Finishes Quest
Journal Entry
{Abnur Tharn wants me to meet him in Rimmen before we head to the palace to parley with his half-sister, Euraxia.

Objective: Meet Abnur Tharn in Rimmen

Optional Step: Talk to Lord Gharesh-ri

Optional Step: Talk to Captain Nala-do

Abnur Tharn offered to give me a tour of Rimmen so I could understand how Euraxia keeps the Khajiiti in line. I can accompany him or refuse and make my own way to the palace.

Complete one: Follow Abnur Tharn or Go to Rimmen Palace On Your Own

I agreed to let Abnur Tharn show me around Rimmen and reveal how Euraxia uses tyranny to enforce order here. I should follow him to each location and see what he has to say.

Objective: Follow Abnur Tharn

Hidden Objective: Talk to Abnur Tharn

I agreed to let Abnur Tharn show me around Rimmen and reveal how Euraxia uses tyranny to enforce order here. I should follow him to each location and see what he has to say.

Objective: Follow Abnur Tharn

Hidden Objective: Talk to Abnur Tharn

I agreed to let Abnur Tharn show me around Rimmen and reveal how Euraxia uses tyranny to enforce order here. I should follow him to each location and see what he has to say.

Objective: Follow Abnur Tharn

Hidden Objective: Talk to Abnur Tharn

I agreed to let Abnur Tharn show me around Rimmen and reveal how Euraxia uses tyranny to enforce order here. I should follow him to each location and see what he has to say.

Objective: Follow Abnur Tharn

Hidden Objective: Talk to Abnur Tharn

I agreed to let Abnur Tharn show me around Rimmen and reveal how Euraxia uses tyranny to enforce order here. I should follow him to each location and see what he has to say.

Objective: Follow Abnur Tharn

Hidden Objective: Talk to Abnur Tharn

I agreed to let Abnur Tharn show me around Rimmen and reveal how Euraxia uses tyranny to enforce order here. I should follow him to each location and see what he has to say.

Objective: Follow Abnur Tharn

Hidden Objective: Talk to Abnur Tharn

I agreed to let Abnur Tharn show me around Rimmen and reveal how Euraxia uses tyranny to enforce order here. I should follow him to each location and see what he has to say.

Objective: Follow Abnur Tharn

Hidden Objective: Talk to Abnur Tharn

I need to accompany Abnur Tharn to Euraxia's throne room inside the palace.

Objective: Go to Euraxia's Throne Room

On the way to Euraxia's throne room, the necromancer Zumog Phoom intercepted me. I should see what he has to say.

Objective: Talk to Zumog Phoom

After a conversation with Queen Euraxia's chief necromancer, Zumog Phoom, I learned that he reanimated Cadwell's original head through necromantic means. Now I need to meet Abnur Tharn in the throne room.

Objective: Enter the Rimmen Palace Throne Room

I entered the throne room. Now I need to step forward and wait to be introduced to Euraxia Tharn.

Objective: Wait to Be Introduced

Euraxia dismissed her half-brother Abnur and instead asked to talk to me. I guess it's up to me to present our case and convince Euraxia that the Dragons plan to betray her.

Objective: Talk to Euraxia Tharn

Zumog Phoom entered the throne room. I should listen to what he has to say to Euraxia.

Objective: Listen to Zumog Phoom

Euraxia never meant to honor the terms of the parley. I need to defend myself and Abnur Tharn before Euraxia's guards overwhelm us.

Objective: Defend Yourself

Abnur Tharn used his magic to teleport us out of the throne room. I should talk to him.

Objective: Talk to Abnur Tharn

Euraxia's wards stopped Abnur Tharn from teleporting us out of the palace. Instead, we wound up in the sewers beneath it. The effort weakened Tharn. I need to protect him as we make our escape.

Objective: Escort Tharn Out of the Sewers

I helped Abnur Tharn get out of the sewers beneath Rimmen Palace. I should talk to him about what we learned.

Objective: Talk to Abnur Tharn

We learned that Euraxia has multiple plans in motion. While Abnur Tharn returns to Riverhold to warn Gharesh-ri of an upcoming attack, I need to go to the Desert Wind Adeptorium and find out what her forces are doing there.

Objective: Go to Desert Wind Adeptorium

It appears that the main gates to the adeptorium have been sealed. I need to find another way to get inside.

Objective: Find a Way Into the Adeptorium

I discovered caves beneath the adeptorium. I should attempt to find a way into the adeptorium from inside the caves.

Objective: Enter the Adeptorium

A Khajiiti adept defends the entrance to the adeptorium. I should let him know I'm here to help against Euraxia's forces.

Objective: Talk to Zamarak

Zamarak thinks the Euraxians seek one of the secrets guarded by the Grand Adept. He asked me to follow him inside.

Objective: Enter the Desert Wind Adeptorium

A Euraxian battlemage! I need to deal with her before she gets away.

Objective: Defeat Lieutenant Lepida

The battlemage's shade was pulled from her dead body and drawn through a nearby door. I should follow her and see what happens.

Objective: Talk to Lieutenant Lepida's Shade

The necromancer Zumog Phoom has trapped the shade of the battlemage. I need to watch and see what's happening here.

Objective: Listen to Zumog Phoom

Zamarak arrived, but we were too late to save the Grand Adept or to keep Zumog Phoom from learning the secret he sent the Euraxians to uncover. Now he knows where to find the rest of the Betrayer's body. I should talk to Zamarak.

Objective: Talk to Zamarak

I got Zamarak to commit the Desert Wind adepts to aid in the defense of Riverhold. Now I should return to town and find Abnur Tharn.

Objective: Talk to Abnur Tharn

I determined what Euraxia's forces were after in the Desert Wind Adeptorium and got the adepts to commit to aid in defense of the town. Now I should find out what I can do to help.

Objective: Talk to Abnur Tharn