Online:Dark Heart of Skyrim
The UESPWiki – Your source for The Elder Scrolls since 1995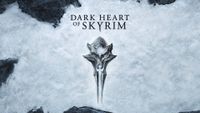 The Dark Heart of Skyrim is the fourth main story arc of the Elder Scrolls Online, following on from the Season of the Dragon. It is an overarching story which spans multiple content updates in the form of DLC, Chapters, and free quests, covering the entirety of 2020's content releases. Details of the plot were officially announced on January 16, 2020, through teasers in the form of a letter from Sai Sahan and maps with Daedric text and Reachfolk sigils and objects were sent to various influencers prior to this.[1]
The eventual return to Skyrim has been hinted at in the past, with Lyris Titanborn being mentioned as having returned to her homeland to deal with an urgent matter.
The Dark Heart of Skyrim concluded with Markarth and was followed by a new story called Gates of Oblivion.
Quest Order
[
edit
]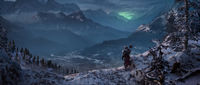 Due to the multiple content releases involved in the Dark Heart of Skyrim, there are no prerequisites for completing these quests and they can be done in any order. However, they do follow a chronological order as listed here.
Harrowstorm Storyline — Quests involving a dark benefactor.
Greymoor Storyline — Quests to stop an evil deep beneath Western Skyrim.
Stonethorn Storyline — Quests to hunt down the reclusive allies of the Gray Host.
Markarth Storyline — Quests to end an ancient vampiric plot that threatens the Reach.
Epilogue — The final arc surrounding Rada al-Saran's Darkstorm and concluding the Dark Heart of Skyrim. (requires completion of Greymoor and Markarth storylines)
The Jubilee Cake 2020 is vampire-themed in reference to the Dark Heart of Skyrim storyline.
Gallery
[
edit
]
References
[
edit
]