Online:Gates of Oblivion
The UESPWiki – Your source for The Elder Scrolls since 1995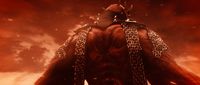 The Gates of Oblivion is the fifth main story arc of Elder Scrolls Online, following on from the Dark Heart of Skyrim.[1] It is an overarching story which spans multiple content updates in the form of DLC, Chapters, and free quests, covering the entirety of 2021's content releases. Details of the plot were officially announced on January 26, 2021. It takes place in Cyrodiil and the Deadlands and involves a threat from Mehrunes Dagon.
On December 10, a teaser trailer was released showing Eveli Sharp-Arrow, an Argonian, and Mehrunes Dagon.
It was succeeded by the Legacy of the Bretons.
Quest Order
[
edit
]
Due to the multiple content releases involved in the Gates of Oblivion, there are no prerequisites for completing these quests (outside of the epilogue) and they can be done in any order. However, they do follow a chronological order as listed here.
Flames of Ambition Storyline — Quests relating to a forgotten secret of the Longhouse Emperors
Blackwood Storyline — Quests to stop Mehrunes Dagon's machinations in Blackwood
Waking Flame Storyline — Quests to investigate further Waking Flame activity
The Deadlands Storyline — Quests to defend Fargrave and Nirn from invasion
Epilogue — The final arc surrounding the secret power of the Four Ambitions (requires completion of Blackwood and The Deadlands storylines)
Marketing Materials
[
edit
]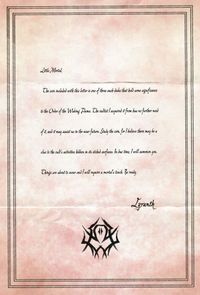 Around December 30th, influencers received ornate coins and a letter from Lyranth saying that the coins were associated with the Order of the Waking Flame.[2] There were three different versions of the coins sent out. Every version had a face depicting a rising sun, the dawn, a common symbol associated with Mehrunes Dagon. The other face of the coins depicted a fox, a boar, and a ram.
Daedric text was featured on each coin face, which read:
Top: MEHRUNES DAGON
Bottom: DESTRUCTION CHANGE AMBITION
Top: AMBITION ONE POWER
Bottom: STRENGTH HONOR REVOLUTION
Top: AMBITIONS KNOWLEDGE FREEDOM
Bottom: WISDOM ENERG(Y) ADVENTURE
AMBITION FOUL CUNNING (or CULLING)
JUSTICE HOPE COURAGE
Cinematics
[
edit
]
Gallery
[
edit
]
References
[
edit
]