Online:An Apocalyptic Situation
The UESPWiki – Your source for The Elder Scrolls since 1995
This page is currently being rewritten as part of the Online Quest Project.
The page is being both written and checked. All users are welcome to make changes to the page. If you make a change that is relevant to the project, please update this template accordingly, and make sure you have observed the project guidelines.

Quest Giver:
Crown Store
Rogatina Cinna at Elden Root (Grahtwood),  Daggerfall (Glenumbra), or  Mournhold (Deshaan)
Next Quest:
The Key and the Cataclyst
Reward:
High Leveled gold
XP Gain:

High

XP
ID:
6701
A strange messenger claims that someone she calls the Dread Lady wants to meet with me. She further claims that this involves a situation that could have apocalyptic consequences.
<><><>
I received a letter from someone claiming to be the Dremora, Lyranth. She wants me to meet with her agent, Rogatina Cinna, concerning an urgent matter in my alliance capital.

Quick Walkthrough
[
edit
]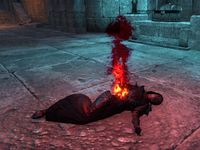 Detailed Walkthrough
[
edit
]
Quest Stages
[
edit
]
An Apocalyptic Situation
Finishes Quest
Journal Entry
I should find Rogatina Cinna and find out what Lyranth the Dremora wants with me.

Objective: Talk to Rogatina Cinna

Rogatina Cinna provided a mount to take me to Lyranth's location. I should make use of it when I'm ready to go meet the Dremora.

Objective: Ride Sweet Daffodil to the Location

I arrived in Dead Man's Drop. I should use the pendant to search for Lyranth's hidden lair.

Objective: Find Lyranth in Dead Man's Drop

The pendant revealed a portal, just like Rogatina indicated. I should enter it and see if Lyranth is waiting on the other side.

Objective: Enter the Portal

The portal deposited me in some sort of ruin. I see Lyranth ahead of me, but she appears to be injured. I should check on her.

Objective: Examine Lyranth

Lyranth has been wounded by some sort of enchanted blade. I should remove it.

Objective: Remove the Enchanted Blade

When I removed the enchanted blade, Lyranth seemed to recover. I should talk to her and find out what this is all about.

Objective: Talk to Lyranth

Lyranth asked me to search her coffer and make sure the cultist didn't take the contents contained in a velvet pouch.

Objective: Find the Velvet Pouch

Lyranth wounded one of the cultists. She thinks he may have been the one who stole her item from the velvet pouch. I should look around the lair and see if he's still here.

Objective: Find the Wounded Cultist

Lyranth arrived and suggested I check the body of the dead cultist. She wants me to see if I can find her missing item.

Objective: Search the Cultist

The cultist carried a letter that indicates they were to take whatever they found here to a location in Greenshade, though the specifics are lacking. I should show the note to Lyranth.

Objective: Talk to Lyranth

Lyranth opened a portal to Greenshade. I should use it and meet her there.

Objective: Enter the Portal

Now that we arrived in Greenshade, I should ask Lyranth how she wants to proceed.

Objective: Talk to Lyranth

Lyranth believes that the note I discovered indicates that the Waking Flame cultists have a base near Shadows Crawl. She wants me to use the pendant to find traces of their portal magic and follow it to wherever they are hiding.

Objective: Find the Waking Flame Cultists

Objective Hint: Use the Pendant

Lyranth chased the Waking Flame cultists through a portal. I should follow after them.

Objective: Explore the Waking Flame Camp

The portal deposited us in a cave that the Waking Flame seems to be using as a base of sorts. I should look around and try to find the relic they stole from Lyranth's hidden lair.

Objective: Explore the Waking Flame Camp

Optional Step: Talk to Lyranth

We reached the center of the Waking Flame camp in the depths of the cave. Lyranth thinks her relic is hidden here somewhere. I should look for it.

Objective: Search the Waking Flame Camp: 0/4

Hidden Objective: Take the Relic

Hidden Objective: Take the Correspondence

Hidden Objective: Take the Notes

Hidden Objective: Take the Schematics

A search of the Waking Flame camp turned up a set of unusual schematics and a note concerning Lyranth's relic. I also recovered the relic. I should talk to Lyranth and discuss what we found.

Objective: Talk to Lyranth

Lyranth opened a portal to take us away from the Waking Flame camp. I should use it and meet her on the other side.

Objective: Enter the Portal

I arrived at Lyranth's camp in the Marbruk Outlaws Refuge. I should talk to her to find out how she wants to use what we found to deal with the Order of the Waking Flame.

Objective: Meet Lyranth at the Marbruk Outlaw's Refuge