Beyond Skyrim:Cyrodiil/Bruma
The UESPWiki – Your source for The Elder Scrolls since 1995
This page or section is incomplete. You can help by adding to it.
Needs a map with key
For more information, see the help files, the style guide, and this article's talk page.
| | |
| --- | --- |
| | Bruma |

Bruma in County Bruma
CYRBrumaExterior01
CYRBrumaExterior02
CYRBrumaExterior03
CYRBrumaExterior04
CYRBrumaExterior05
Government
Inns
Shops and Services
Guilds and Temples
Houses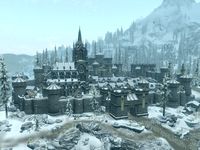 Bruma is the capital city of County Bruma, located in the center of the county. The city lies near the border between Skyrim and Cyrodiil, and this is reflected in its mainly Nord population, as well as in its architecture and climate, which is relatively cold and snowy. The imposing Cathedral of St. Martin dominates the skyline and the central part of the city, while Count Desilus Carvain resides in the large castle in the western district. The Fighters Guild and the Synod maintain a guildhall and conclave respectively in the central district of the city.
The Bruma market in the southern district is made up of stalls run by a few of the local denizens: Gryfard Peton, an insecure Breton jeweler; Ananril, a Bosmer apothecary whom you can assist in collecting ingredients for, and Rilja Stone-Hearth, a Nord buyer and seller of Nordic artifacts who will task you with expanding her collection. In the shadow of the cathedral, by the southern wall is Fadel's butcher shop A Cut Above, while near the eastern gate is Ice-Wind Traders, a general goods shop run by Cedus Perusius. In the northern part of town, near the guildhalls, is Northern Arms, a blacksmith shop run by Hulgard and his apprentice Eddvia Jucani.
Two inns provide bed and board for the weary traveler, at the opposite ends of the social spectrum. In the run-down southern district of the city, in the shadow of the cathedral, is the notorious bunkhouse The Restful Watchman. Run by Bentior, it is the watering hole of choice for Bruma's poorer denizens, as well as a fair share of lowlifes and thugs. On the other hand, in the raised western quarter, nestled in between upper-class mansions, is the Jerall View Inn, run by Stantus Faleria and his wife Hjotra. The inn prides itself on its exceptional customer service, which includes a resident bard and bathhouse.
Outside the eastern gate you will find the Bruma Stables, where Ila the Upright will sell you a paint horse for 3000 gold, while just outside of the northern gate is a ramshackle slum. The area is ringed by wooden palisades and towers, and hosts a number of shacks, tents and campfires inhabited predominantly by impoverished refugees from Skyrim's civil war.
For historical information on Bruma, see the lore article. For information on Bruma as it appeared in Oblivion, see the Oblivion article.
Gallery
[
edit
]
*From stage 80 of Absent Antiquity
**From stages 0 to 100 of The Courier
***After stage 400 of The Courier
Quests Starting Here
[
edit
]