Online:Markarth
The UESPWiki – Your source for The Elder Scrolls since 1995
Discovery

Leveled

XP


Leveled

XP
Zone
The Reach
Location
Western part of the Reach
Houses
Other Buildings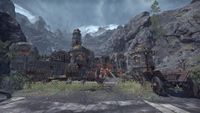 Markarth is a Dwemer city that is inhabited by the Reachfolk. It is the largest inhabited settlement and political capital of the Reach.
If you exit Markarth, head east, then head south across a bridge leading across the river, you'll come across three homes. An abandoned house lies to the south, Trenol's House is to the east and Cianreil's House lies to the west. The North Markarth Wayshrine lies up the hill north from the bridge leading to these homes. There is an inaccessible farmhouse next to the wayshrine. The side of the road leading west towards Markarth is lined with stone and dotted with watchtowers. A copy of the lore book, Bloodfiends of Rivenspire, lies on the floor beside a bow and a barrel at the top of the tower closest to the North Markarth Wayshrine.
The Markarth Stables are located in front of the main gate. Just down the street west from the stable is a caravan offering transportation to Solitude and the three Alliance capitals. When you enter the city, you'll see Markarth Mercantile to your right and The Hunter's Repose across the river to your left. An alley to the right of the front gate leads straight to Ionregha's House.
Related Quests
[
edit
]
Daily Quests
[
edit
]
Delve Quests
[
edit
]
Given by Bralthahawn:
World Boss Quests
[
edit
]
Given by Gwenyfe:
Harrowstorm Quests
[
edit
]
Given by Nelldena:
Wayward Guardian Quests
[
edit
]
Given by Ardanir:
Shops and Services
[
edit
]
Other Places
[
edit
]
Wayshrine

[

edit

]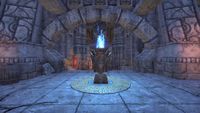 The Markarth Wayshrine is located in southern Markarth. It is surrounded by the city's guild kiosk market.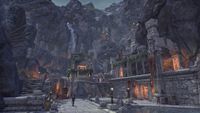 †
Appears in this location during the related quest
Markarth has previously appeared in Skyrim, and in Arena as Markarth Side.
When you enter the "Guild Tower," where the Mages and Fighters guilds are, the entrance from the outside is on the north side of the tower, while the exit from the same door on the inside is on the east side of the tower.
Gallery
[
edit
]