Online:Guild Finder
The UESPWiki – Your source for The Elder Scrolls since 1995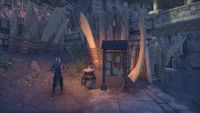 The Guild Finder tool can be accessed via the Guilds menu tab. It is an in-game method of browsing and applying to join player guilds. The system is optional; by default, a guild will not be listed in the Guild Finder and will have to manually invite players to join.
The Guild Finder can also be accessed by activating the Guild Listings board in Markarth and Solitude.[verification needed — other locations?]
Applying
[
edit
]
You can submit up to five applications at once, regardless of how many guilds you are currently a member of. When applying, you can optionally include a message in your application. This is usually highly encouraged. It is possible to set a default message to appear when writing applications.
When browsing listed guilds, it is possible to filter for guilds who have a trader, guilds who partake in specific activities (Trading, PvP, Dungeons, Trials, Housing, Questing, Roleplaying, Crafting, Fishing, Justice, Antiquities), and play style (Casual, Balanced, Hardcore).
Recruitment
[
edit
]
You can choose to list your guild in the Guild Finder via the Recruitment tab. Here you can define your activities and play style, filter by group roles or minimum Champion Points, and specify your language, core hours, a headline, and a full description. Your guild's Alliance affiliation will appear on the listing, as will your heraldry if applicable.
You will be notified of any received applications. When accepting or rejecting an application, you can enter an optional response message. It is possible to set a default response. You can also set up a blacklist to prevent certain players from applying.
It is possible to link to a guild's Guild Finder listing via chat.
Related Quests
[
edit
]