Daggerfall:Vampirism
The UESPWiki – Your source for The Elder Scrolls since 1995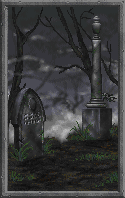 Vampirism in Daggerfall is a condition that can affect you after dying from the disease of the same name. You will gain numerous advantages by becoming a vampire, but will have to feed every day in order to survive.
Acquisition
[
edit
]
In order to become a vampire, you must first acquire the associated disease from a vampire or vampire ancient. The chance of catching the disease is very low (1.22% chance per hit), and it's possible to acquire a normal disease instead of vampirism, so getting the disease may take some time and patience. Level 1 characters cannot become vampires. Once you have the disease, you will experience an ominous dream the next time you sleep. The disease can still be cured by any temple at this stage. If it is not, then after three days, you will receive a notification, saying "Death is not always eternal. For some it is merely a time of waiting. Now is your time of waiting. Be patient and all will be revealed..."
After receiving the notification, you will awaken in a tomb. Your character portrait will change and depict you standing in a graveyard. You will have all of the spells and benefits associated with the bloodline of the region in which you died. After you awaken as an undead, you will be able to undergo the Rite of Acceptance.
Advantages
[
edit
]
When you become a vampire, you will gain:
These advantages only last as long as you remain a vampire; if you are cured you will lose them forever.
Disadvantages
[
edit
]
After becoming a vampire, you will take continuous damage from holy places and sunlight, and you will have to feed on blood. Killing any living creature will count as feeding. If you fail to feed every day, you will be unable to rest and so unable to regenerate resources. This is generally a minor inconvenience—any character can expect to be in near-constant combat, and most creatures encountered are "living".
Bloodlines
[
edit
]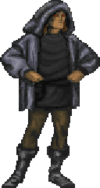 There are nine bloodlines of the Iliac Bay, each with their own unique benefits but all sharing the same quests. These nine bloodlines each have benefits specific to them and an area of dominion. You will automatically join the bloodline of the area you were infected in, and gain the bloodline's benefits.
The following table provides a summary of each bloodline and the associated benefits:
Vampires at a glance

| Bloodline | Bloodline Gift | Bloodline Territory | Enemies | Allies |
| --- | --- | --- | --- | --- |
| Anthotis | +20 to Intelligence Attribute† | Alik'r Desert, Antiphyllos, Bergama, Dak'fron, Tigonus | Thrafey | |
| Garlythi | Shield Spell | Northmoor, Phrygias | Selenu, Lyrezi | |
| Haarvenu | Ice Storm, Wildfire | Anticlere, Ilessan Hills, Shalgora | Montalion | |
| Khulari | Paralysis Spell | Dragontail Mountains, Ephesus, Kozanset, Santaki, Totambu | Anthotis | |
| Lyrezi | Invisibility Spell, Silence Spell | Alcaire, Isle of Balfiera, Koegria, Menevia, The Orsinium Area, Wrothgarian Mountains. This is a default bloodline. | Garlythi | |
| Montalion | Free Action Spell‡ | Bhoriane, Gavaudon, Lainlyn, Mournoth, Satakalaam, Wayrest | Selenu | |
| Selenu | Resist Cold Spell, Resist Fire Spell, Resist Shock Spell | Abibon-Gora, Ayasofya, Cybiades, Kairou, Myrkwasa, Pothago, Sentinel | Montalion, Vraseth | |
| Thrafey | Heal | Daenia, Dwynnen, Ykalon, Urvaius | Anthotis | Vraseth |
| Vraseth | Nimbleness Spell | Betony, Daggerfall, Glenpoint, Glenumbra Moors, Kambria, Tulune | The Travelers League | Thrafey |
† This boost works differently from the normal vampire attribute bonuses and can result in Intelligence loss if vampirism is cured. See "Curing Vampirism" below
‡ Some would debate the value of Free Action to one who is immune to paralysis
Reputations
[
edit
]
Since you have technically "died" in the process of becoming a vampire, your legal reputation in all regions is reset. You are now a new, previously unknown individual in the eyes of the law.
In addition, all guild memberships are revoked. For most guilds, you can simply rejoin and receive a promotion to your previous rank 28 days later. However, guilds which operate by invitation, such as the Thieves Guild and the Dark Brotherhood, are a different trouble. Since you can only join those guilds once, then acquiring vampirism after admission into those ranks prevents you from rejoining those guilds at all, under any circumstance. However, if you have not joined such guilds, they do retain the option to join even in your undead state, and you simply need to trigger the conditions from which an invitation is extended.
Curing Vampirism
[
edit
]
It is possible to be cured of vampirism, which will not "reset" the character as acquiring vampirism does, but merely remove both the benefits and penalties of being a vampire from you. Since guild membership is not affected, any "lost" chances at Thieves Guild or Dark Brotherhood remain "lost"; i.e. you may only belong to either of those guilds once and only once, and acquiring vampirism irrevocably ejects the character from those guilds if the character was a member of those guilds. If you never joined an invitation-only guild, you are still eligible to join, and merely must trigger the invitational events. Likewise, if you were admitted to those guilds after becoming a vampire and were later cured, your guild memberships would not be affected.
Note that an Anthotis vampire will have their Intelligence reduced by 20 points when cured, regardless of how many points they actually gained from joining the bloodline (the bonus will not boost Intelligence past 100). This will result in a character that had more than 80 Intelligence before becoming a vampire having their Intelligence reduced to 80 when cured. The rest of the attribute bonuses from vampirism do not exhibit this behavior.
See Also
[
edit
]