Morrowind:Tel Vos
The UESPWiki – Your source for The Elder Scrolls since 1995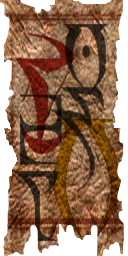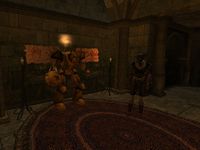 Tel Vos is the home of the youngest of the Telvanni Mage Lords, Master Aryon. The tower is located in the north-central Grazelands, and Master Aryon is the only Councilman whose tower is not on an island. Perhaps as a sign of his relative youth and openness to new ways, Master Aryon's tower is quite unique.
The land Tel Vos was built on was taken forcibly. Notably, large sections of Tel Vos are similar in design to Imperial Fort aesthetics. Aryon himself resides at the top, accessible only with levitation. As a living fungal form, the tower actually interpenetrates the stonework, and Aryon's experiment cannot be seen as a complete success.
While Tel Vos is worth a visit out of pure architectural interest, it also has a Dwemer museum, a small but excellent library, and a dungeon. Tel Vos is the primary regional center for the Grazelands, extending Telvanni influence beyond traditional reaches. The lack of services in Vos make what's available in Tel Vos all the more important. Services available in Tel Vos include an enchanter and trader in enchanted goods, an apothecary, and Milar Maryon who sells spells and potions. All can be found in the Services Tower.
Getting There and Around
[
edit
]
A dirt road leads east to Vos. Tel Mora is very close from there, to the east across the water. The Falvillo's Endeavor at the docks in Vos can take you to Sadrith Mora, Tel Aruhn and Tel Mora. The ship also makes a nice home in this area. A path south leads through the Grazelands to the Ashlander settlement of Zainab Camp. A path west leads to the foothills of the Ashlands and some Dwemer ruins. Rotheran has the closest Propylon Chamber, located to the north in the direction of Dagon Fel.
Places of Interest Around Tel Vos
[
edit
]
Related Quests
[
edit
]
Map Key

1. Services Tower
2. Northeastern Tower
3. Central Tower
4. Aryon's Chambers

5. Southern Tower
6. Barracks and Armory
7. Jail