Morrowind:Indarys Manor
The UESPWiki – Your source for The Elder Scrolls since 1995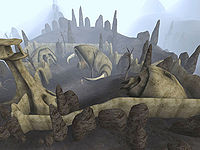 This is an article on player housing. For more information, see the associated Houses page.
Indarys Manor is a Redoran stronghold in the Ashlands region, located on the site of Bal Isra. Players who advance to the House Redoran rank of Kinsman will be able to construct it by undertaking the related questline. Indarys Manor is the most populous stronghold and has the greatest overall storage; for a full comparison of its storage, services, and features, see the article on housing.
The compound consists of a manor and three NPC buildings enclosed by a stone wall. There are three trainers and three merchants located here, including a spellmaker and blacksmith.
The nearest large settlement is Ald'ruhn, although Maar Gan is located a slightly shorter distance to the northeast. Almsivi Intervention teleports to Ald'ruhn, which has Silt Strider service to Balmora, Gnisis, Khuul and Maar Gan. Divine Intervention targets Buckmoth Legion Fort. From Ald'ruhn's Mages Guild, Guild Guide service will teleport the player to any other Mages Guild location in Vvardenfell. From the connection to Khuul, one can catch a boat to Fort Frostmoth, which is the only fast travel route to Solstheim. Indarys Manor is also centrally placed in proximity to the ancient Dunmer strongholds of Andasreth, Falasmaryon and Kogoruhn, which offer travel via Propylon Chamber.
Indarys Manor will not exist until you have begun the stronghold questline for your faction of choice.
The Indarys surname is shared by two other characters in Morrowind: a Dunmer Battlemage named Brelyn Indarys holed up in Mannammu, and Banden Indarys, who is the namesake of this manor. Two characters of note in Oblivion share the surname as well: Andel Indarys, the count of Cheydinhal, and his son, Farwil Indarys.
Related Quests
[
edit
]
Stronghold: Build your House stronghold, Indarys Manor, in three phases.
Map Key