Morrowind:Hla Oad
The UESPWiki – Your source for The Elder Scrolls since 1995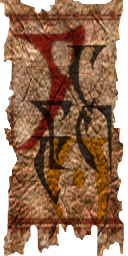 Hla Oad is a tiny fishing village at the southern end of the Bitter Coast region, southwest of Balmora on Vvardenfell. It offers few services, and is rumored to be a major stopover for smugglers.
Main Square
[
edit
]
There's not much available in the way of services in this small port. A few desolate fisher huts and homes of paupers are centered around a square. Fatleg's Drop Off in town is the location of the local publican, Trasteve, who has a limited supply of weapons, armor, arrows, potions and various sundries for trade.
The Hideout
[
edit
]
Accessed through a trapdoor from Fatleg's, the Camonna Tong maintains a large smugglers' hideout, right under Hla Oad. You might not be specifically welcome, but they do offer various training and thieves tools. A Khajiit slave carries a special load. Dalam Gavyn offers smith services. Llemisa Marys has a supply of lockpicks and probes for sale, and Perien Aurelie is a pawnbroker.
Getting There and Around
[
edit
]
Transportation from Hla Oad to other locations in Vvardenfell is handled by Baleni Salavel, located at the local docks on her transport ship, the Harpy. An uneven path leads north through the swamps to Gnaar Mok. A better path leads east to the Odai River and on to Balmora.
The smuggler ship Grytewake is located due southwest.
Near Murudius Flaeus's house just above the water level there is a hidden chest.
Hla Oad is considered to be House Hlaalu territory, but the only member present is a single guard.
Places of Interest Around Hla Oad
[
edit
]
Related Quests
[
edit
]
House Hlaalu
[
edit
]
Imperial Cult
[
edit
]
Thieves Guild
[
edit
]
Miscellaneous
[
edit
]
Map Key