Bloodmoon:Fort Frostmoth
The UESPWiki – Your source for The Elder Scrolls since 1995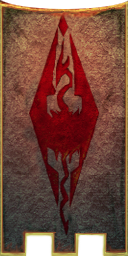 Fort Frostmoth is the primary Imperial settlement on the south coast of Solstheim, in the Hirstaang Forest. It holds services (trader, smith, Imperial Cult altar) that can only be used if you have started the Rebellion at Frostmoth quest, due to low morale among the troops. It is also the main link to Vvardenfell by way of Khuul.
The makeup of the fort has the main barracks against the west wall; this is where you will find Captain Falx Carius and the prison cells as well. The Imperial Cult shrine is to the north. To the east, the armory also holds the fort chaplain's office.
The fort is known among the legionnaires as a punishment detail, due partly to the unpleasant weather and partly due to the mead. The presence of wolves, bears, berserkers and rieklings probably doesn't help morale either.
Fort Frostmoth also acts as the area office of the East Empire Company, located on top of the Imperial Cult shrine. The company was established here to mine the rich deposits of ebony from Raven Rock.
Related Quests
[
edit
]
Miscellaneous
[
edit
]