Lore:Tel Vos
The UESPWiki – Your source for The Elder Scrolls since 1995
This page is currently being redesigned for the Lore Places Project (LPP).
The page may need work to meet the standards outlined on the project page.
This page or parts of this page were previously transcluded to other pages per this discussion.
This page should be checked for potential unrelated lore and other information. Please remove this banner when the page has been cleaned up.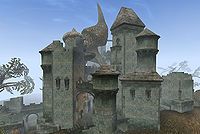 Tel Vos was the home of the youngest of the Telvanni Mage Lords, Master Aryon, in 3E 427. The tower was located in the north-central Grazelands, and Master Aryon was the only Councilman at the time whose Tel was not on an island. Perhaps as a sign of his relative youth and openness to new ways, Master Aryon's tower was quite unique.
Tel Vos appears to originally have been an Imperial fort that was built at some point in the Third Era, with the Telvanni seizing it and growing their iconic mushroom structures around it later. Aryon himself resided at the top, accessible only with levitation. As a living fungal form, the tower actually interpenetrated the stonework, and Aryon's experiment couldn't have been seen as a complete success.
While Tel Vos was worth a visit out of pure architectural interest, it also had a Dwemer museum, a small but excellent library, and a dungeon. Tel Vos was the primary regional center for the Grazelands, because it extended Telvanni influence beyond traditional reaches. The lack of services in Vos made what's available in Tel Vos all the more important.
The fate of Tel Vos following the disastrous six years covering the Oblivion Crisis, the Red Year, and the subsequent Argonian invasion is not recorded. However, a ship called the Pride of Tel Vos escaped the Argonian raiders and was wrecked near Winterhold in 4E 6; by 4E 201, the wreckage was still mostly intact and had become a bandit camp.
See Also
[
edit
]