Skyrim:Conjure Haunting Spirit
The UESPWiki – Your source for The Elder Scrolls since 1995
Conjure Haunting Spirit

School
Conjuration
Difficulty
Apprentice
Type
Offensive
Casting
Fire and Forget
Delivery
Target Location
Equip
Either Hand
Spell ID

FE

xxx

868

Editor ID
ccVSVSSE003_SPELL_HauntingSpirit
Base Cost
128

Charge Time

0.5
Duration
60
Range
24 ft
Tome ID

FE

xxx

88F

Tome Value
100
Found

Can be found in the treasure room of Yngvild Throne Room.

Appears in random loot at level
10+
Purchase from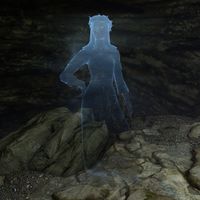 Summons a Haunting Spirit for 60 seconds. When killed, the spirit steals 10 points from the skills of its killer and transfers them to the caster for a short time.
Conjure Haunting Spirit is an Apprentice level Conjuration spell added by the Necromantic Grimoire Creation.
Effects
[
edit
]
Summoner, increase range to 48 ft at first rank or 72 ft at second rank.
Necromancy, Greater duration for spell.
Dark Souls, increases Health with 100.
Conjure Haunting Spirit is unaffected by Spell Absorption.
The Haunting Gift effect can stack if separate enemies kill different Haunting Spirits.
All stats are boosted by Haunting Gift, including crafting skills. Thus the spell can be used to brew strong potions, make stronger enchantments, and temper weapons and armor to higher levels.
Creature (ID)
Lvl

Sta.

Abilities
Attacks
Soul
Haunting Spirit (

FE

xxx

8A0

)
5
93 /

193

113
64
(?)