Skyrim:Arcane Accessories
The UESPWiki – Your source for The Elder Scrolls since 1995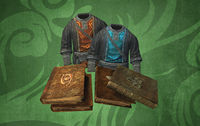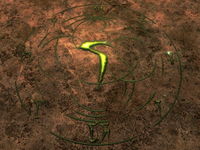 Arcane Accessories is a Creation that adds numerous new robes and spells to the game. It was released on October 4, 2017 for 100 CC Credits. Many of the spells originally appeared in Oblivion's Spell Tomes add-on.
Official Summary
[
edit
]
From robes that grant spellcasting bonuses, to ancient tomes holding powerful spells like Paralysis Rune and Unbounded Frost, this pack will increase any mage's effectiveness. (Creations are obtained through a quest, and appear in containers in the world.)
Overview
[
edit
]
The items added by this Creation can be encountered through normal gameplay, such as from vendors and loot chests. Upon installation, a set of leveled Robes of Destruction & Alteration and leveled Robes of Conjuration & Illusion will be added directly to your inventory, and the quest The Lost Library will be added to your journal directing you to a chest in Hob's Fall Cave. This chest contains spell tomes for every new spell.
Note that the free robes can be very powerful, and the spells use far less magicka than anything available in the base game with the same effect.
Content
[
edit
]
28 items are included with the Creation, including spell tomes for each new spell.
Magic

16 new spells can be learned from their corresponding spell tomes.
Quests