Skyrim:Conjure Ancient Deathpriest
The UESPWiki – Your source for The Elder Scrolls since 1995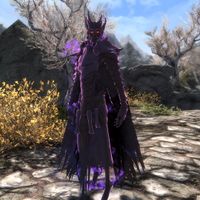 Summons an Ancient Deathpriest that wields powerful magic and commands the undead for 60 seconds. When killed, the Deathpriest splits into 3 Tortured Shades.
Conjure Ancient Deathpriest is a Master level Conjuration spell added by the Necromantic Grimoire Creation.
Effects
[
edit
]
Summoner, increase range to 48 ft at first rank or 72 ft at second rank.
Necromancy, Greater duration for spell.
Dark Souls, increases Health with 100.
Conjure Ancient Deathpriest is unaffected by Spell Absorption.
Tortured Shades also spawn when an Ancient Deathpriest is replaced with another summon or when the spells runs out of time.
Creature (ID)
Lvl

Sta.

Abilities
Attacks
Soul
Ancient Deathpriest (

FE

xxx

8A3

)
40
840 /

940

505
0
(?)
Tortured Shade (

FE

xxx

8A8

)
7
90
80
80
(?)