Online:Crow
The UESPWiki – Your source for The Elder Scrolls since 1995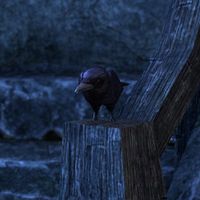 Crows are black birds. Most are aesthetic rather than being true creatures, but there are a few crows existing as actual creatures in the game.
Unique Crows
[
edit
]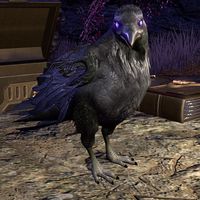 Quests Involving Crows
[
edit
]
Quest-Related Events
[
edit
]
Heart of Evil
[
edit
]
After slaying Uela the Hagraven, the crows trapped spirits will merge with their bodies and descend to start feasting on her corpse, one of them will call out to you.
Crow: "You killed her. You freed us. Haha!"
You can speak with them:
"Freedom. Freedom at last! And Uela dead. Dead!"
Yes, she is.
"Sweet relief. No more voices, no more restraint. Bodies and minds together again.
The crows of Jackdaw Cove are in your debt."
I'm just glad you're free again.
"Yes, free and feasted! The Hagraven was all skin and bones, but what's there is sweet to eat.
So thank you for saving us, and thank you for supper!"
I'll leave you to enjoy that then.
Lost in Translation
[
edit
]
As the group led by the Ritemaster trudges forward through Evergloam searching for answers, some crows continually mock the Ritemaster.
Blackfeather Crow: "He doesn't remember! So desperate he was, he leaped at our Mistress' offer!"
Ritemaster Iachesis: "Speak plainly, crows! Come back here!"