Morrowind:Beasts
The UESPWiki – Your source for The Elder Scrolls since 1995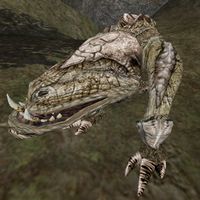 Alits are common tailless two-legged creatures found in the grasslands and ash wastes of Vvardenfell in Morrowind. They are similar to their more powerful cousin, the kagouti, and resemble a disproportionately large walking mouth. Diseased and Blighted Alit attacks are poisonous, and may also transmit their disease to the player.
They are one of the two creatures in the game without unique sound effects—they share sounds with the hunger. The sounds are meant for the Alit however as their file name would indicate. It should also be noted that without Bloodmoon installed, creatures with unassigned sounds default to the Alit's.
Creature
Drops
Attacks
Soul
Alit
alit
Alit Hide
30
20
(Petty)
Diseased Alit
alit_diseased
25
(Petty)
Blighted Alit
alit_blighted
105
*Note: The regular Alit was given the Alit Bite ability in Morrowind Patch Project 1.6.6.
Cliff Racer
[
edit
]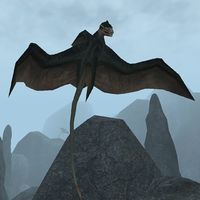 Cliff Racers are large flying creatures found throughout Vvardenfell. They are very aggressive and will attack anyone in sight. Cliff Racers have good vision range, and will often detect and follow the player without being noticed. This can result in swarms of them descending upon the unwary adventurer. Their AI can be rather flawed at times; for example they often go to you using non-linear routes, similar to "zig-zag" flying, and can get stuck for a while in trees.
Creature
Drops
Attacks
Soul
Cliff Racer
cliff racer
Racer Plumes
45
20
(Petty)
Diseased Cliff Racer
cliff racer_diseased
Blighted Cliff Racer
cliff racer_blighted
90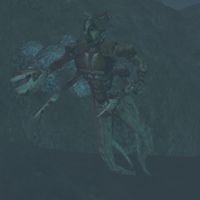 Dreugh are ancient part-human, part-octopus, and part-crustacean sea monsters commonly hunted for their skin (to make armor) and Dreugh Wax from their shells (for its magical properties). The wax found within their shells is highly valuable and useful if the player has a high alchemy skill. You will often encounter them in shallow water, in caves, and along the coastline. Dreugh can be found in high concentrations around Gnaar Mok, around Ebonheart in the waters below the bridge and the caves, in the deepest waters far off the coast of Seyda Neen, and in Koal Cave near Gnisis.
Dreugh tend to swarm upon you while swimming or diving, so Water Walking is often a faster and safer alternative. When fighting them in melee, aim for where the tentacles connect to the torso.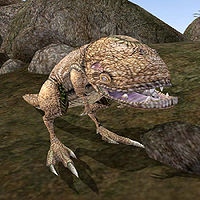 Guar are the primary domesticated herd animals of Vvardenfell and are not usually aggressive, with the exception of the somewhat rare Wild Guar.
Kagouti
[
edit
]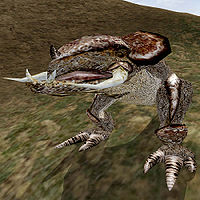 The more powerful relatives of the Alits, Kagoutis are large and aggressive two-legged animals with large tusks.
Creature
Drops
Attacks
Soul
Kagouti
kagouti
Kagouti Hide
45
20
(Petty)
Mating Kagouti
kagouti_mating
(Ascadian Isles region (2,-4))
200
(Grand)
Kagouti
kagouti_hrk
(West Gash region (-8,8))
Diseased Kagouti
kagouti_diseased
20
(Petty)
Blighted Kagouti
kagouti_blighted
90
Mudcrab
[
edit
]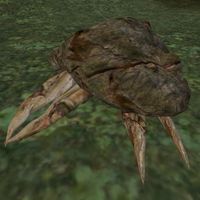 Mudcrabs are small, hard-shelled creatures found on the shores throughout Morrowind. They will only become aggressive when you come into close proximity of them. High concentrations of Mudcrabs can be found along the Bitter Coast near Seyda Neen, Gnaar Mok, Hla Oad and in Khuul. Be careful searching the Diseased Mudcrab bodies, as you may contract Swamp Fever.
Creature
Drops
Attacks
Soul
Mudcrab
mudcrab
Crab Meat
15
5
(Petty)
Diseased Mudcrab
mudcrab-Diseased
Mudcrab
mudcrab_hrmudcrabnest
(Bitter Coast (-8,4))
20
(Petty)
Mudcrab
dead_mudcrab
(Kumarahaz)
0
0
Mudcrab *
mudcrab_unique
(Azura's Coast (9,-10))
Crab Meat
Assorted Liquor
20
5
(Petty)
* This is the famous Mudcrab merchant.
Netch are large, peaceful creatures resembling airborne jellyfish with the size and disposition of cattle. They are supported by internal sacs of magical vapors. Netch are herded by farmers in peaceful areas, as their hide makes a good quality leather. The female or "betty" Netch is smaller than the male or "bull", but is more easily provoked into aggression, especially in herds where the female-male ratio is kept higher than in the wild for faster breeding. Some bull Netch, however, have a poisonous attack. These creatures are non-aggressive, but can be defensive of their territory during their breeding season.
Creature
Drops
Attacks
Soul
Betty Netch
netch_betty
Netch Leather
113
75
(Common)
Betty Netch
netch_betty_ranched
(All around the Ascadian Isles region)
Betty Netch
netch_betty_ilgn
(Gnaar Mok)
45
10
(Petty)
Bull Netch
netch_bull_ilgn
(Near Gnaar Mok)
Bull Netch
netch_bull_ranched
(All around the Ascadian Isles region)
Bull Netch
netch_bull

4-12 pts melee
Poisonbloom - Poison 1-20 pts in 10ft for 5s on Target

50
(Lesser)
Giant Bull Netch
Netch_Giant_UNIQUE

(Sheogorad (1,24))
250
60
(Lesser)
Bull Netch
netch_bull_dead, netch_bull_dead_2
(South of Gnaar Mok)
0
0
Nix-Hound
[
edit
]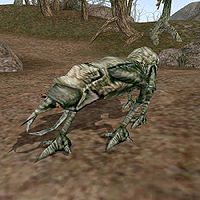 Nix-Hounds are medium-sized predators that have been known to hunt in packs. They may be fast, but they are not very dangerous for medium-level players. They are easily defeated with Marksman weapons.
Creature
Drops
Attacks
Soul
Nix-Hound
nix-hound
Hound Meat
23
10
(Petty)
Blighted Nix-Hound
nix-hound blighted
68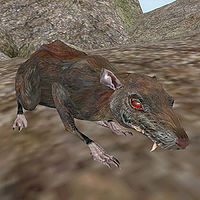 Rats are common rodents found throughout Morrowind. There are many variations of rats, though all are weak.
Creature
Drops
Attacks
Soul
Rat
Rat
Rat Meat
23
10
(Petty)
Cave Rat
rat_cave_fgrh
(Balmora, Drarayne Thelas' House)
Cave Rat
rat_cave_fgt
(Telasero, Lower Level)
Telvanni Sewer Rat
rat_telvanni_unique
(Vivec Telvanni Underworks)
Telvanni Sewer Rat
rat_telvanni_unique_2
(Vivec Telvanni Enchanter)
30
Game Rat
rat_cave_hhte1
(Vivec St. Olms, Yngling Manor Basement)
38
Diseased Rat
rat_diseased
23
40
(Lesser)
Blighted Rat
rat_blighted
Blighted Game Rat
rat_cave_hhte2
(Vivec St. Olms, Yngling Manor Basement)
45
10
(Petty)
Dead Rat
dead rat
nothing
0
0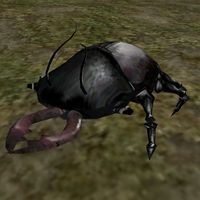 Shalks are large and slightly aggressive beetles which use magical fire to attack. They can often be found in the Grazelands and in certain dungeons.
Creature
Drops
Attacks
Soul
Shalk
shalk
Shalk Resin
38
100

-60

6-18 pts melee
Shalk's Fire Bite - Fire Damage 3-6 pts in 5ft on Touch

30
(Petty)
Diseased Shalk
shalk_diseased
Diseased Shalk
shalk_diseased_hram
(Ashimanu Egg Mine, Queen's Lair)
15
10
(Petty)
Blighted Shalk
shalk_blighted
80
30
(Petty)
Slaughterfish
[
edit
]
Slaughterfish are common and aggressive fish found in the waters surrounding Morrowind and in the flooded areas of shipwrecks. They are encountered often en masse and will form into large packs behind the player when swimming.
Creature
Drops
Attacks
Soul
Small Slaughterfish
Slaughterfish_Small
Scales
15
10
(Petty)
Slaughterfish
slaughterfish
23
Old Blue Fin
slaughterfish_hr_sfavd
(Ald Velothi)
68
5
(Petty)