Morrowind:Hound Meat
The UESPWiki – Your source for The Elder Scrolls since 1995
Hound Meat


ingred_hound_meat_01

2
1.0
Alchemy Effects
1st
 Restore Fatigue
2nd
 Fortify Fatigue
3rd
 Reflect
4th
 Detect Enchantment
Sources
# Samples
34
Creature
Nix-Hound
%
100 (60×3*)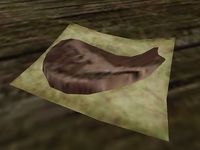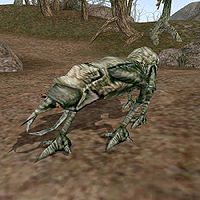 "Hound meat is the flesh of the nix-hound. The meat is sweet and tender, and has modest magical properties."
Hound Meat is acquired by killing Nix-Hounds. It is also very common as a food item, and can be found in random food supplies in every civilized area.
The following vendors carry a restocking supply:
*Cienne's ingredients are stored in a chest in her shop, rather than on her person. If you can gain access to this chest without being detected, you can have an unlimited supply for free.
Loose Samples can be found in the following locations:
Elanius Camp, Yapal's Yurt (3)
Suran, Suran Slave Market (3)
Tel Aruhn, Tower Living Quarters (3)
Tel Branora, Fedar Davus's House (2)
Tel Uvirith, Tower Lower (2)
Ald'ruhn, Morag Tong Guildhall (1)
Caldera, Guild of Mages (1)
Ghostgate, Tower of Dusk (1)
Indarys Manor, Berendas' House (1)
Kogoruhn, Hall of Maki (1)
Mamaea, Shrine of Pitted Dreams (1)
Molag Mar, Redoran Stronghold (1)
Tel Aruhn, Tower Entry (1)
Vivec, Black Shalk Cornerclub (1)
Vivec, Hlaalu Pawnbroker (1)
Vivec, Redoran Vaults (1)
Vos, Falvilo's Endeavor, Upper Level (1)