Online:A New Alliance
The UESPWiki – Your source for The Elder Scrolls since 1995
This page is currently being rewritten as part of the Online Quest Project.
The page is being both written and checked. All users are welcome to make changes to the page. If you make a change that is relevant to the project, please update this template accordingly, and make sure you have observed the project guidelines.

| | |
| --- | --- |
| | Attend a meeting with the Proxy Queen to ensure the Crystal Tower is protected. |
With the Crystal Tower saved, Valsirenn wishes to call a meeting of Summerset's most influential leaders to ensure its future protection.
Quick Walkthrough
[
edit
]
Talk to Valsirenn.
Talk to Oriandra.
Find Sotha Sil in his study.
Go to the Royal Palace in Alinor.
Talk to Oriandra.
Attend the palace meeting and try to reason with Sapiarch Larnatille.
Listen to your allies.
Talk with the Sapiarch again.
Talk to Valsirenn when everyone's left.
Talk to Raz to complete the quest.
Detailed Walkthrough
[
edit
]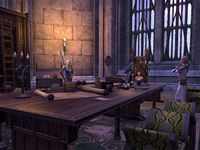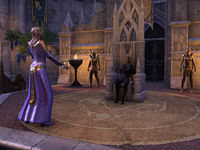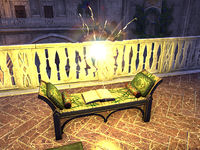 Having faced down Nocturnal and her plot to control the Crystal Tower you must now face your greatest enemy of all: High Elf politics. The Psijic Order and Sapiarchs have arranged a meeting with Proxy Queen Alwinarwe in the Alinor Royal Palace to ensure the Crystal Tower is adequately defended by all parties. Before leaving Ceporah Tower you must talk to Oriandra and Sotha Sil, the latter respectuflly declining the invitation to take part in talks.
Three of the following will be chosen from the table below to be brought in to sway Sapiarch Larnatille. Should only the main quest have been finished, without completing any side quests, then it will always be Kinlady Avinisse and Canonreeve Farmeldo brought in with Razum-dar concluding.
| Character | Quest | Dialogue |
| --- | --- | --- |
| Kinlady Avinisse | The Queen's Decree | "I will vouch for this adventurer. While I was blinded by prejudice and hate, their actions saved Shimmerene." |
| Canonreeve Farmeldo | A Pearl of Great Price | "Sapiarch, you know me. My son rejected the Queen's decree and suffered the consequences. This newcomer saved Rellenthil." |
| Justiciar Hyircil | The Taste of Fear | "The Divine Prosecution recognizes this adventurer's efforts to maintain the peace. I can personally attest that they saved Cey-Tarn Keep from a Daedric cult." |
| Alchemy | Manor of Masques | "Alchemy vouches for this adventurer! Within our troupe, loyalty and trust come before all. This brave hero has demonstrated those qualities a thousand times over." |
| Andewen | The Ebon Sanctum | "Though the Sapiarchs and Mages Guild do not always see eye-to-eye, you know my reputation. This adventurer saved my life and I affirm their bravery and honor." |
| Battlereeve Tanerline | The Abyssal Cabal | "As the Battlereeve of Alinor, I support only those who deserve it. This adventurer, at great risk, gathered vital information about the Sea Sload and helped save Summerset." |
| Razum-dar | None | "Finally, Raz must add his voice to the chorus. No one has served our Queen and our island as well as this adventurer. Not even Raz!" |
After the quest has been completed, as you head out to Alinor, a terrified Bailiff Ellidoril will run down the balcony stairs to Bailiff Calbalion spluttering about a mysterious book that magically appeared in front of him. Head up to the balcony to find a final message from the Golden Knight.
Quest Stages
[
edit
]
A New Alliance
Finishes Quest
Journal Entry
I need to speak to Oriandra and ask her to send messages to influential members of the Summerset Isles.

Objective: Talk to Oriandra

I need to speak to Sotha Sil before he leaves and ask him if he will join us for the council meeting.

Objective: Talk to Sotha Sil

Oriandra asked me to meet her in front of the Royal Palace in Alinor. I should go there as soon as possible.

Objective: Go to the Royal Palace in Alinor

Oriandra is waiting for me in front of the Royal Palace in Alinor. I should talk to her.

Objective: Talk to Oriandra

The meeting has already begun. I should make my way inside and try to convince the Sapiarchs.

Objective: Attend the Palace Meeting

Sapiarch Larnatille refuses to accept assistance in protecting the Crystal Tower. I should try and speak to her to see if I can convince her otherwise.

Objective: Talk to Sapiarch Larnatille

It appears Razum-dar and Oriandra have summoned those who I've helped from across Summerset to vouch for me. I should listen as they make their case.

Objective: Listen to Your Allies

Now that everyone has vouched for me, I need to speak to the Sapiarch and see if she'll reconsider getting additional help to protect the Crystal Tower.

Objective: Talk to Sapiarch Larnatille

I managed to convince the Sapiarchs to accept help protecting the Crystal Tower, but Valsirenn still has something to tell me. I should speak to her.

Objective: Talk to Valsirenn

Valsirenn has informed me that the Psijic Order will be leaving Summerset. Now that I've said goodbye, I should go to the throne room and speak to Razum-dar.

Objective: Talk to Razum-dar

Though the meeting was successful, Razum-dar still wishes to speak to me. I should see what he has to tell me.

Objective: Talk to Razum-dar