Morrowind:Slaves
The UESPWiki – Your source for The Elder Scrolls since 1995
This article is about slaves in general. For the slave class, see Slave (class).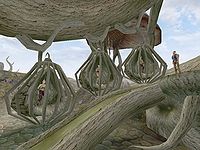 Slavery was once widespread throughout Tamriel, whether it was the practice of using defeated enemies as slaves or selling your own children to combat hunger, and the Dunmer have raided Black Marsh for slaves for ages. Since the advent of the Third Era, slavery was illegal throughout the Empire, but protected by law in Morrowind. This exception was granted by Tiber Septim in the Armistice of 2E 896 as a concession to the Dunmer, who saw the use of slaves as their ancient right. Recent developments have seen the rise of Abolitionists such as the Twin Lamps, often with support from members of the leading families on Vvardenfell. Nonetheless, slavery is still in very widespread use in the province and the topic provokes strong reactions.
Adventurers might run into escaped slaves on their travels, often in remote areas, in danger from guards, beasts and bounty hunters. Many smugglers' caves contain a number of slaves usually locked behind a gate. A safe haven for those poor souls is the Argonian Mission in Ebonheart. Slaves in captivity often have magical bracers preventing their escape, and you would have to find a slave key, should you wish to free them. After freeing 21 slaves, you'll be offered a dialog about the Twin Lamps and the Code Phrase "Have you seen the Twin Lamps?" to recognize fellow members, the answer required being: "They light the way to freedom."
Related Quests
[
edit
]
Zainab Nerevarine: Travel to the Zainab camp in order for them to recognize you as the Nerevarine.
Notable Slave Holdings
[
edit
]
Slaves in Morrowind
[
edit
]
This is a list of all slaves to be found in Morrowind. Most are Argonian or Khajiit (only Yakov in Suran and the slaves at the Slave Market in Tel Aruhn are not). In most cases, their slave key can be found in the same location, either on a table somewhere or carried by the slavers guarding them. In other cases, freeing them is part of a quest. However, in some cases, there is no key to be found. These slaves can still be freed, however. All you need to do is cast Command Humanoid on them, and get them to follow you to the nearest location for which you DO have a key. Once they are in that location, your key will work. After freeing 5 slaves, you will be told about the Twin Lamps. After you have freed 21 slaves, you will be told a secret phrase and Ilmeni Dren in Vivec will have some quests for you. After you free 30, you can speak to Jobasha (also in Vivec) to receive 3 skill books as a reward.
Location
Region
Slaves
Key Found
Abebaal Egg Mine
Azura's Coast

Ahnarra

Dan-Ru

Dro'Zah

J'Dato

Seen-Rei

Mistress Therana

Tel Branora, Lower Tower (on table)

In a crate in the mine

Addamasartus
Bitter Coast

Baadargo

Banalz

Okaw

Tanisie Verethi

On a crate in cave

Aharunartus
Bitter Coast

Aravi

Bahdahna

Kishni

Wuleen-Shei

On a chest in the cave

Arvel Plantation
Ascadian Isles

Affri

J'Kara

Kal-Ma

Kasa

Ma'Dara

no key

(Closest is in Dren Plantation)

Ashalmawia
West Gash
See: The Twin Lamps
Assarnud
West Gash

Akish

Bun-Teemeeta

Huzei

Ra'Karim

Ra'Mhirr

Ri'Darsha

Bazgulub gro-Ulfish

Caldera Mine
West Gash

Gilm

Khazura

Neesha

Caldera Mining Guard Tower (on table)

Caldera Mining Bunkhouse (on table)

Dren Plantation
Ascadian Isles

Plantation Shipping House (on desk)

See also: Free Hides-His-Foot

Ebonheart, Argonian Mission
Ascadian Isles
See: Alms from the Argonian Mission
Gnisis, Madach Tradehouse
West Gash

no key

(Closest is in Assarnud)

Habinbaes
Sheogorad

Aina

Kisimba

Olank-Neeus

Ri'Dumiwa

Matuk gro-Magrish

Hinnabi
Ascadian Isles

Cheesh-Meeus

Heir-Zish

J'Ram-Dar

Tasha

Tels Girano

Hla Oad, Fatleg's Drop Off
Bitter Coast
See: Rabinna's Inner Beauty
Hlormaren
Bitter Coast

Dahnara

S'Vandra

Dreaded-Water

Meer

Nisaba

Reemukeeus

Shivani

Smart-Snake

S'Renji

Arkming the Flayer

In Chest in Hlormaren, Lower Level

In Chest in Hlormaren, Dome

Kudanat
West Gash

Adharanji

Ah-Meesei

Heedul

Oleen-Gei

Ra'Sava

On table in cave

Minabi
Azura's Coast

Ahjara

Beekatan

Jeed-Ei

Meen-Sa

Shaba

S'Raverr

Chrelm

Molag Amur Region (11,-1)
Molag Amur
See: The Runaway Slave
Molag Mar
Molag Amur

Abanji

Breech-Star

High-Heart

Khamuzi

Stream-Murk

Tern-Feather

no key

Panat
Ascadian Isles

Ekapi

Tsabhi

Ula

Dravil Omavel

On stool in cave

Rotheran
Sheogorad

Asum

Chiwish

Idhassi

J'Raksa

Kisisa

Ma'Khar

M'Shan

Nakuma

Nam-La

Tanan

Wih-Eius

Irvsie Othran

Sadrith Mora
Azura's Coast

Ereel-Lei

Milos

Qa'Dar

Ahdahni

Inee

J'Jazha

Reesa

S'Rava

Wanan-Dum

no key

(Closest is in Zebabi)

See also: People in Sadrith Mora for the console names of the outside slaves

Saturan
Molag Amur

Eutei

J'Zamha

Peeradeeh

Ubaasi

Udarra

Jolgeir

Sha-Adnius
Ashlands

Gih-Ja

Han-Tulm

Jeer-Maht

Ri'Vassa

Sholani

Tsani

On bench in cave

Shushan
Molag Amur

Ashidasha

Bhusari

Bunish

Olink-Nur

Evilu Indrano

Shushishi
West Gash

Halof

Near corpse in cave

Sinsibadon
Ascadian Isles

Ahdni

Am-Ra

J'Jarsha

Kaasha

On-Wazei

Wusha

Borug gro-Lazgarn

Sterdecan's Farmhouse
Ascadian Isles

Jo'Ren-Dar

no key

(Closest is in Dren Plantation)

Suran
Ascadian Isles

Desele's House of Earthly Delights

Jeelus-Tei

Seewul

Tim-Jush

Yakov

no key

(Closest is in Saturan)

Tel Aruhn
Azura's Coast

no key, however, these slaves can
be purchased and then freed.

See also: Zainab Nerevarine

Tel Branora
Azura's Coast

no key

Ules Plantation
Ascadian Isles

no key

(Closest is in Dren Plantation)

Vivec
Ascadian Isles

Dro'Qanar

El-Lurasha

Inerri

Mim-Jeen

Wud-Neeus

Teegla

Eldrar Fathyron

Yakanalit
Azura's Coast

Ahaht

Ahdri

Ahndahra

Harassa

Milah

Weer

On table in cave

Zainsipilu
Bitter Coast

Ahnisa

Anjari

Bahdrashi

Haran

Muz-Ra

Snadir

On table in cave

Zebabi
Molag Amur

Chalureel

Gish

Ma'Zahn

Nuralg

Zahraji

Draryn Andrano
Gallery
[
edit
]