Online:Ulath Tribe
The UESPWiki – Your source for The Elder Scrolls since 1995
This page or parts of this page were previously transcluded from lore pages per this discussion.
This page should be checked for potential unrelated lore and other information. Please remove this banner when the page has been cleaned up.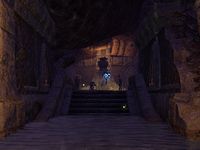 The Ulath Tribe (also known as the Ulathi) is a minor Ashlander tribe that lives in the Stonefalls region of mainland Morrowind. Little is known of them, as they are hostile to outsiders. The Cave of Memories, a small cave northwest of Heimlyn Keep, serves as their ancestral burial grounds. They are particularly devoted to the Daedric Prince Mephala, one of the Three Good Daedra, and make silver armlets fashioned in the semblance of a spiderweb to honor her.
Members
[
edit
]
Named Members
Generic Members
Locations
[
edit
]
Alliances
Joinable NPC Guilds
Minor NPC Factions