Oblivion:Brindle Home
The UESPWiki – Your source for The Elder Scrolls since 1995
Console Location Code(s)
BrindleHomeExterior, BrindleHomeExterior01, BrindleHomeExterior02
Region
Great Forest
Location
West of the Imperial City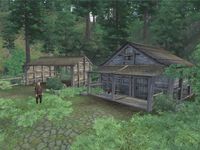 Brindle Home is a village between Skingrad and Chorrol (quest-related).
Its residents, though not involved in any quests, are rich and make excellent targets for Dark Brotherhood hopefuls and thieves alike.
Although the houses themselves do not contain much except an Acrobatics skill book and a Nirnroot plant found in Torbal's house, the citizens, two Altmer and one Nord, carry a few valuable things with them. There is also a small stable in the settlement.
If you attempt to pickpocket any of the residents and fail, they will not attack, although they will say something to you. You will not be assessed a fine if you are caught pickpocketing. Also you will not get a bounty for murdering them and taking their riches, so have it all if you want.
There are two Black Horses and two Paint Horses in the town. Surprisingly, none of the villagers own them. They are all owned by Cheydinhal people. Specifically, the two black horses are owned by the Cheydinhal Stables faction and Voranil, while the paint horses are owned by Oghash gra-Magul and Bazur gro-Gharz. It appears that the developers just copied and pasted the Cheydinhal Stables cell into Brindle Home without changing any of the ownership settings.
NPCs Living Here
[
edit
]
Related Quests
[
edit
]