Oblivion:Brindle Home
The UESPWiki – Your source for The Elder Scrolls since 1995
Console Location Code(s)
BrindleHomeExterior, BrindleHomeExterior01, BrindleHomeExterior02
Region
Great Forest
Location
West of the Imperial City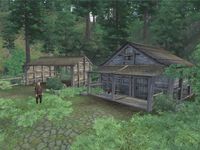 Brindle Home is a village between Skingrad and Chorrol (quest-related).
The settlement consists of three houses (Astante's Home, Melus Petilius' House, and Torbal the Sufficient's House) and a small stable. Although the houses feature little of note (except an Acrobatics skill book and a Nirnroot plant in Torbal's house), the residents carry a few valuable things with them (see Notes).
One of the residents has attracted the ire of a Daedric Prince.
NPCs Living Here
[
edit
]
Related Quests
[
edit
]
The settlement's residents, though not involved in any quests, are rich and make excellent targets for thieves and Dark Brotherhood hopefuls alike. If you attempt to pickpocket any of the residents and fail, they will not attack (although they will say something to you), and you will not be assessed a fine. You will also not incur a bounty for murdering them.