Online:Cradle of Shadows
The UESPWiki – Your source for The Elder Scrolls since 1995

The Cradle of Shadows is the seat of power of the enigmatic figure known only as the Lady of Lace. What lies behind its veil of darkness is known only by her fanatical followers.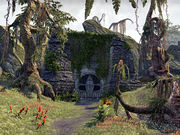 The Cradle of Shadows is a group dungeon in Shadowfen. It's part of the Shadows of the Hist dungeon pack DLC, along with Ruins of Mazzatun. The entrance can be found near Stillrise Village, southwest of Stormhold.
Its dungeon sets are Gossamer, Hand of Mephala, and Widowmaker.
Related Quests
[
edit
]
Cradle of Shadows
[
edit
]
Enemies
[
edit
]
Minibosses
[
edit
]
Achievements
[
edit
]
There are several Achievements associated with this dungeon:
Achievement
Points
Description
Shadows of the Hist Explorer
5
Enter either the Ruins of Mazzatun or the Cradle of Shadows for the first time.
Shadows of the Hist Delver
50
Complete Veteran Cradle of Shadows and Veteran Ruins of Mazzatun.
Cradle of Shadows Challenger
50
Complete the listed achievements for Veteran Cradle of Shadows.
Cradle of Shadows Champion
10
Defeat Sithera, Khephidaen the Spiderkith, the Votary of Velidreth, Dranos Velador, and Velidreth the Lady of Lace in Veteran Cradle of Shadows.
Velidreth's Vengeance
50
Defeat Velidreth in Veteran Cradle of Shadows, after first enraging her by defiling her statue of Mephala.
Exterminator
50
Defeat Sithera, Khephidaen the Spiderkith, the Votary of Velidreth, Dranos Velador, and Velidreth the Lady of Lace in Veteran Cradle of Shadows within 30 minutes of starting the dungeon. Timer starts on entering the initial caverns.
Beacon in the Night
50
Defeat Sithera, Khephidaen the Spiderkith, the Votary of Velidreth, Dranos Velador, and Velidreth the Lady of Lace in Veteran Cradle of Shadows without suffering a group member death.
Cradle of Shadows Vanquisher
10
Defeat Sithera, Khephidaen the Spiderkith, the Votary of Velidreth, Dranos Velador, and Velidreth the Lady of Lace in the Cradle of Shadows.
Iconoclast
10
Destroy 50 statues of Velidreth's Devotion in Veteran Cradle of Shadows.
Spider Cult Slayer
10
Defeat 600 members of the Silken Ring or their Spiderkith allies in Veteran Cradle of Shadows.
Fear No Darkness
Shadowplay
Divided He Fell
Web Walker
Embrace the Shadow
Nothing to See Here
Venomous Evasion
Gallery
[
edit
]