Online:Ruins of Mazzatun
The UESPWiki – Your source for The Elder Scrolls since 1995

The Ruins of Mazzatun have long been a blight on the pristine marshland of Shadowfen. Legend tells of a Mad Hist at the center of the ruins, but Argonians who enter the "Puzzle City" seldom live to tell the tale.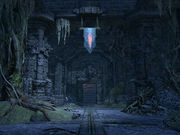 Ruins of Mazzatun is a group dungeon in Shadowfen. It's part of the Shadows of the Hist dungeon pack DLC, along with Cradle of Shadows. The ruins can be entered from a cave at Hei-Halai, west of Stormhold.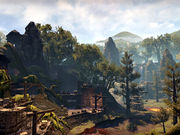 Similar to the Imperial City group dungeons, Mazzatun has an objective quest as well as a repeatable pledge from Urgarlag Chief-bane.
Its dungeon sets are Amber Plasm, Aspect of Mazzatun, and Heem-Jas' Retribution.
Related Quests
[
edit
]
Ruins of Mazzatun Objective: Explore the Ruins of Mazzatun. / You put an end to the evil infecting the Ruins of Mazzatun.

Sap and Stone: Eliminate the Xit-Xaht threat in the Ruins of Mazzatun.

 Pledge: Ruins of Mazzatun: Prove you are truly Undaunted by conquering the Ruins of Mazzatun.
 Ruins of Mazzatun Pledge: Prove you are truly Undaunted by conquering the Ruins of Mazzatun. (disabled since Patch 2.6.4)
Ruins of Mazzatun
[
edit
]
Enemies
[
edit
]
Minibosses
[
edit
]
Achievements
[
edit
]
There are several Achievements associated with this dungeon:
Achievement
Points
Description
Shadows of the Hist Explorer
5
Enter either the Ruins of Mazzatun or the Cradle of Shadows for the first time.
Shadows of the Hist Delver
50
Complete Veteran Cradle of Shadows and Veteran Ruins of Mazzatun.
Ruins of Mazzatun Challenger
50
Complete the listed achievements for Veteran Ruins of Mazzatun.
Ruins of Mazzatun Champion
10
Defeat Zatzu the Spine-Breaker, The Mighty Chudan, Xal-Nur the Slaver, and Tree-Minder Na-Kesh in Veteran Ruins of Mazzatun.
Tree-Minder's Mania
50
In Veteran Ruins of Mazzatun, defeat Tree-Minder Na-Kesh after enraging her by destroying her alchemical notes on Amber Plasm.
Ruination
50
Defeat Zatzu the Spine-Breaker, The Mighty Chudan, Xal-Nur the Slaver, and Tree-Minder Na-Kesh in Veteran Ruins of Mazzatun within 30 minutes of starting the dungeon. Timer starts on passing through the first archway.
Unbowed
50
Defeat Zatzu the Spine-Breaker, The Mighty Chudan, Xal-Nur the Slaver, and Tree-Minder Na-Kesh in Veteran Ruins of Mazzatun without suffering a group member death.
Ruins of Mazzatun Vanquisher
10
Defeat Zatzu the Spine-Breaker, The Mighty Chudan, Xal-Nur the Slaver, and Tree-Minder Na-Kesh in the Ruins of Mazzatun.
Sludge-Slinger Slayer
10
Defeat 50 Xit-Xaht Sludge-Slingers in Veteran Ruins of Mazzatun.
Xit-Xaht Slayer
10
Defeat 600 members of the Xit-Xaht tribe in Veteran Ruins of Mazzatun.
Mazzatun Massacre
10
Defeat Tree-Minder Na-Kesh after first eliminating all other enemies in Ruins of Mazzatun.
Savior of the Su-Zahleel
Sapped Sludge Slingers
Haj Mota Matador
Obedience Training
Clean Freak
Blind Luck
Sticky Situation Savvy