Skyrim:Angler Larvae
The UESPWiki – Your source for The Elder Scrolls since 1995
Angler Larvae


xx

0008F0

Added by
Fishing
1
0.25
Alchemy Effects
1st
 Lingering Damage Health
2nd
 Regenerate Stamina
3rd
 Waterbreathing
4th
 Fortify Two-handed
Angler Larvae is an ingredient added by the Fishing Creation.
It is a common small fish that can be caught by fishing in freezing waters like the Dawnstar fishing location near the boat.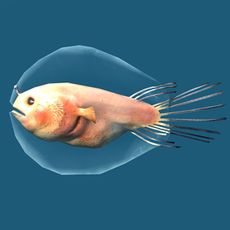 Combinations
[
edit
]
In terms of combinations of two ingredients, Angler Larvae can be combined with 37 other ingredients.
2 Effects
[
edit
]
1 Effect
[
edit
]
| Desired Effect | Combine with: |
| --- | --- |
|  Lingering Damage Health | ChokeberryCC (2×,2.14), Imp Stool, Orange Dartwing, RoobrushCC (2×,2.14), Rot ScaleCC (3×,3.34×), ScathecrawDB, Slaughterfish Egg, Slaughterfish Scales, Thorn HookCC |
|  Regenerate Stamina | Alocasia FruitCC (1.2×,1.22×), Bee, Daedroth TeethCC (1.2×,1.22×), Mora Tapinella, Purple Butterfly WingCC, Scaly Pholiota, Scrib JellyCC (1.2×,1.22×), Wisp Stalk CapsCC (1.2×,1.22×) |
|  Waterbreathing | AngelfishCC, Chicken's Egg, Fungus StalkCC (1.6×,1.67×), GoldfishCC, Hackle-Lo LeafCC (1.6×,1.67×), Hawk's EggHF, Histcarp, Nordic Barnacle, Salmon RoeHF (12×,15.4×), Scalon FinCC (1.6×,1.67×), Scrib JerkyCC (1.6×,1.67×) |
|  Fortify Two-handed | Dragon's Tongue, Emperor Parasol MossDB, Heart of OrderCC (1.25×,1.27×), Troll Fat |