Lore:Onsi
The UESPWiki – Your source for The Elder Scrolls since 1995
"May Onsi strengthen your resolve and guide your blade to the monster's heart." [1]
Onsi (also known as the Boneshaver), is a notable warrior god of the Yokudan Ra Gada and a part of the Redguard Pantheon. Onsi is said to have taught Mankind how to pull their knives into swords.[2] He is mentioned several times in The Book of Circles by Frandar Hunding, who wrote that those forging a sword should recite the "Oblation of Onsi" upon completion. A tale of King Fahara'jad's youth claimed that Onsi personally saved him from a vengeful hagraven.[3]
Worship
[
edit
]
Priests of Onsi wear magnificent cloaks of iridescent gooblet feathers during the Boneshaver's Sword Banquet.[4]
Worshippers of Onsi often exclaim "By Onsi's bright blade!"
Artifacts
[
edit
]
Boneshaver
[
edit
]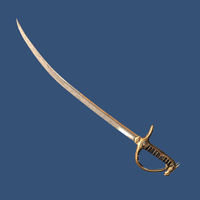 Boneshaver is a legendary saber named after the warrior god of the Yokudan Ra Gada, Onsi the Boneshaver. Onsi himself is rumored to have gifted the saber to the Ra'gada. Its blade is noted as being sharp enough to be able to cut through any foe.
The saber's physical features are ornate with dragon imagery. Its pommel is shaped like a dragon's head, and has areas on the saber's hilt that resembles scales. The blade itself features a pattern akin to that of flowing water.
References
[
edit
]