Lore:Gideon
The UESPWiki – Your source for The Elder Scrolls since 1995
This page is currently being redesigned for the Lore Places Project (LPP).
The page may need work to meet the standards outlined on the project page.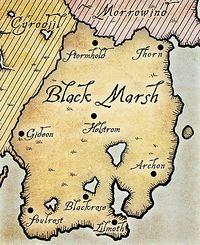 Gideon is the name of a settlement on the western border of Black Marsh, the nearest Argonian city to Cyrodiil. It is a black city, belonging to the followers of Seth. At the very end of the First Era, Castle Giovesse in Gideon served as the prison for the last Empress of the Reman Dynasty.[1] In 2E 582, Elder Council member Vandacia traveled to Gideon to personally manage an iron crisis in the Nibenay Basin.[2] The city was overrun by the undead army of Umbriel circa 4E 40.[3]
Arena was originally conceived as a fighting game featuring a tournament that took the player to each of Tamriel's cities to challenge different gladiatorial teams. According to a file from that stage of development left behind in the final game, Gideon's gladiatorial team would have been called "the Shadowblades".[UOL 1]
Datamined information relating to the planned Murkmire add-on for Elder Scrolls Online and in-universe developer statements originally placed the region of Murkmire in western Black Marsh, adjacent to Shadowfen and encompassing the city of Gideon.[4][5] The add-on was delayed and redesigned, resulting in Murkmire being moved to southern Black Marsh and Lilmoth replacing Gideon as the region's main settlement.
See Also
[
edit
]
For game-specific information, see the Arena article.
References
[
edit
]
Note: the following references are not from official sources. They are included to provide a rounder background to this article, but may not reflect established lore.