Arena:Gideon
The UESPWiki – Your source for The Elder Scrolls since 1995
"Gideon, the black city of the followers of Seth, lies near the southern tip of the Imperial Run. A cold air that has nothing to do with the time of year seems to chill your bones as you enter..."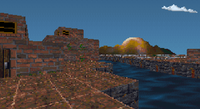 Gideon is a city-state in western Black Marsh, north of Soulrest and near the border of the Imperial Province. The ruler is Queen Demia. Its rival is Soulrest.
It is a black city, belonging to the followers of Seth.
Locations
[
edit
]
Inns

Black Wolf
Crimson Mug
Devil's Huntsman
Dirty Helm
Flying Eagle
Green Chasm
Green Goblin
Green Helm
Green Huntsman
Haunted Skull
Howling Chasm
Howling Mug
Howling Wolf
King's Mug
King's Wolf
Laughing Dragon
Lucky Helm
Lucky Skull
Red Skull
Silver Wolf
Thirsty Bird
Thirsty Pit

Temples

Brotherhood of Charity
Brotherhood of Gideon
Brotherhood of Justice
Brotherhood of the One
Conclave of Solitude
Conclave of Temperance
Conclave of the One
Order of the Gentle Hand
Order of the Golden Tomb
Order of the Knights of Hope
Order of the One Prophet

Stores

Bargain Weaponry Store
<random>'s Accouterments
<random>'s Gear Store
The Adventurer's Provisions
The Essential Accouterments
The Essential Sundries
The Practical Gear Store
The city-state Weaponry Store
Unearthed Provisions
Unearthed Tool Store
Used Accouterments
Vintage Provisions
Gideon is a possible starting location for Argonians.
Despite in-game text claiming that the city is ruled by the followers of Seth, there are no Temples associated with the Brotherhood of Seth within the city. Ironically, there is one located in Gideon's rival Soulrest.