Lore:Murkmire
The UESPWiki – Your source for The Elder Scrolls since 1995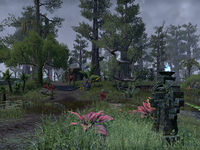 Murkmire is a coastal region in southern Black Marsh with access to Oliis Bay. The port city of Lilmoth is located there. Murkmire is inhabited by both Argonian and Naga tribes.
The Argonian tribes of Murkmire were claimed to be one of the three regions of Black Marsh that joined the Ebonheart Pact at its founding in 2E 572 by Heita-Meen[1] In truth, however, the remarks were more aspirational than descriptive, and though Pact envoys in Murkmire worked to add the region to the alliance, it remained autonomous as of 2E 582. Murkmire's lack of a central authority likewise complicated the matter.[2]
In 4E 48 the floating city of Umbriel passed over the region after being summoned by the An-Xileel of Lilmoth, killing all inhabitants below and resurrecting them as undead soldiers under Umbriel's command.[3]
Murkmire is home to the Keel-Sakka River.[4]
Datamined information relating to the planned Murkmire zone for Elder Scrolls Online and in-universe developer statements originally placed the region of Murkmire in western Black Marsh, adjacent to Shadowfen and encompassing the city of Gideon.[5][6] The zone was delayed and redesigned, resulting in Murkmire being moved to southern Black Marsh and Lilmoth replacing Gideon as the region's main settlement.
See Also
[
edit
]
For game-specific information, see the ESO article.
References
[
edit
]