Skyrim:Kyne's Peace
The UESPWiki – Your source for The Elder Scrolls since 1995
Kyne's Peace
(00

07097e

)
The Voice soothes wild beasts, who lose their desire to fight or flee.
Thu'um

K1N




Kaan
Kyne

DREM




Drem
Peace

OV




Ov
Trust

ID

00

06029d

00

06029e

00

06029f

Effects
Recharge
Spell ID
Kaan
Animals up to Level 20 within 75 feet are calmed for 60 s.
40
00

082a34

Kaan Drem
Animals up to Level 20 within 150 feet are calmed for 120 s.
50
00

082a39

Kaan Drem Ov
Animals up to Level 20 within 225 feet are calmed for 180 s.
60
00

082a3a

Locations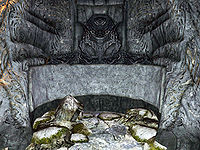 Kyne's Peace is a shout that calms animals. Affected creatures will not fight or flee. Additionally, affected creatures will be revealed by an effect similar to Aura Whisper for the duration of the shout.
Related Quests
[
edit
]
Word Wall Translations
[
edit
]
Thu'um
Word Wall
Translation
Transliteration
Kaan
HET NOK KOPR1N DO HELA
F4DON W4 P4 SIV1S
1R DO

K1N

1L REK S3V UN4Z1L
PR1N KO F9KRO DO H4NU
Here lies (the) body of Hela,
friend to all beasts,
servant of

Kyne

. May she find eternal
rest in the Forest of Dreams.
HET NOK KOPRaaN DO HELA
FahDON Wah Pah SIVaaS
aaR DO

KaaN

aaL REK SiiV UNahZaaL
PRaaN KO FeyKRO DO HahNU
Drem
NONVUL BRON D4M1N D1R ROT
DO FIN FOD3Z BORM4 DR1L
NI F4

DREM

F4 GRIK LOS
HIND DO S4LO 4RK NIV4R3N
Noble Nords remember these words
of the hoar father: Pray
not for

peace

, for such is
(the) wish of (the) weak and cowardly.
NONVUL BRON DahMaaN DaaR ROT
DO FIN FODiiZ BORMah DRaaL
NI Fah

DREM

Fah GRIK LOS
HIND DO SahLO ahRK NIVahRiiN
Ov
HET M4 SP1N V4DIN VALKRYS
WO KRIF VOTH 4KRIN NUZ
LOS FOL1S V4

OV

MUL1G
DO BOD3S TUZ
Here fell shield maiden Valkrys
who fought with courage, but
was wrong to

trust

(the) power
of (a) borrowed sword.
HET Mah SPaaN VahDIN VALKRYS
WO KRIF VOTH ahKRIN NUZ
LOS FOLaaS Vah

OV

MULaaG
DO BODiiS TUZ
Despite this being a "peaceful" shout, there is a slight shock-wave that is emitted that can cause harm.
The shout penetrates doors and walls.
This shout can be used to calm animals under the control of spriggans.
This shout can be used to cause a large mess quickly in heavily decorated areas such as Dragonsreach if you so desire.