Skyrim:Dragon Aspect
The UESPWiki – Your source for The Elder Scrolls since 1995
Dragon Aspect
(

xx

01df92

)
Once a day, take on the mighty aspect of a dragon, delivering colossal blows, with an armored hide, and more powerful shouts.
Added by
Dragonborn
Thu'um

MUL




Mul
Strength

Q4




Qah
Armor

D3V




Diiv
Wyrm

ID
Effects
Recharge
Spell ID
Mul
+25 Armor rating, and power attacks do 25% more damage
5

xx

01df91

Mul Qah
+100 Armor rating (total), Ancient Dragonborn summoned if health below 50%, +25% fire and frost resistance
5

xx

01df96

Mul Qah Diiv
Shout recharge time reduced by 20%
5

xx

01df99

Locations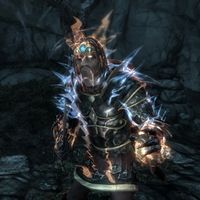 Dragon Aspect is a shout that improves your power attack damage, resistance to damage, and shout recharge time. When used, dragon-like traits will be physically applied to the one shouting in the form of a spectral armor. The first word makes this effect appear on only the arms, but is extended to the chest with the second word, and the head with the third word. All effects have a duration of 300 seconds. The effects will still remain active if you transform into a Vampire Lord or werewolf, which can give both forms numerous, and otherwise unobtainable, benefits. If you have at least two words of the shout, an Ancient Dragonborn is summoned to fight alongside you when your health drops below 50%. This shout is unique in that it can only be used once per day.
Achievements
[
edit
]
One achievement is unlocked when you learn all three words of this shout: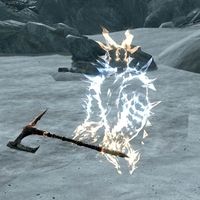 Word Wall Translations
[
edit
]
Thu'um
Word Wall
Translation
Transliteration
Mul
P4 WERID MOROK2 M71K
ZOK SUL9K1R DO P4
SON1K WEN

MUL

BOL1V
N1L F4LU1N DO JUL
All praise glorious Miraak
Most power(ful) servant of all
Dragon Priests, whose

strength

(was) granted
by (the) gardener of mankind
Pah WERID MOROKei MiraaK
ZOK SULeyKaaR DO Pah
SONaaK WEN

MUL

BOLaaV
NaaL FahLUaaN DO JUL
Qah
HET ONT KR3ST M71K WO 4T3R
OK S4VOT OL

Q4

SP1N N1L
D9RA F4 OK UNSL1D MIDUN
Here once stood Miraak who wore
His faith as

armor

, shield(ed) by
Daedra for his eternal loyalty
HET ONT KRiiST MiraaK WO ahTiiR
OK SahVOT OL

Qah

SPaaN NaaL
DeyRA Fah OK UNSLaaD MIDUN
Diiv
QETHSEGOL V4RUKIV LOT M71K
SON1K DO LOT ONIK1N 1R
DO F1L

D3V

4RK HOKORON DO JUL
(This) stone commemorates great Miraak:
Dragon Priest of great wisdom, servant
of the

wyrm

, and enemy of mankind
QETHSEGOL VahRUKIV LOT MiraaK
SONaaK DO LOT ONIKaaN aaR
DO FaaL

DiiV

ahRK HOKORON DO JUL
Not mentioned in the description for the third tier shout is that several shouts have their magnitudes and/or durations amplified. In general, shouts with point values (i.e. Frost Breath) are enhanced by 25%, while shouts with duration are enhanced by 50%. The one exception to this rule is Ice Form, which is increased in duration by 25%.
It is impossible to do enchanting when Dragon Aspect is active. If you attempt to enchant something, you receive the message, "Insufficient charge for enchantment".
The word walls in Apocrypha and Raven Rock Mine may show two inscriptions on top of each other.
Sometimes if you are in a hold and you fall below 50% health with this shout still active, it will cause the Ancient Dragonborn to attack everyone in the hold.
In rare cases, activating Dragon Aspect then immediately activating the Vampire Lord power can make the visual effect of Dragon Aspect permanent.
In rare cases, activating Dragon Aspect can cause the sound effect to loop after the ability's timer runs out. To fix this reload the save prior to the effect ending. ?