Skyrim:Aura Whisper
The UESPWiki – Your source for The Elder Scrolls since 1995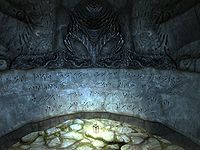 Aura Whisper
(00

07097b

)
Your Voice is not a Shout, but a whisper, revealing the life forces of any and all.
Thu'um

L1S




Laas
Life

Y4




Yah
Seek

N7




Nir
Hunt

ID

00

060294

00

060295

00

060296

Effects
Recharge
Spell ID
Laas
Show life forces for 10 seconds.
30
00

08afcc

Laas Yah
Show life forces for 20 seconds.
40
00

08afcd

Laas Yah Nir
Show life forces for 30 seconds.
50
00

08afce

Locations
Aura Whisper is a dragon shout that reveals nearby mobile entities, similar to the Detect Life spell effect. Aura Whisper will reveal both NPCs and creatures. Unlike the Detect Life spell, it does not show if the entities detected are friendly or hostile. Although this shout is much quieter than the others, it is not silent and can alert enemies to your presence, unless you have the Illusion perk Quiet Casting.
Related Quests
[
edit
]
Possible Uses
[
edit
]
Detecting Daedra, Dwarven Automatons, and Ash SpawnDB, which are not visible with either the Detect Life or Detect Dead spells (some Ash Spawn are said to be detectable with Detect Dead).
Determining whether bodies in a crypt are draugr waiting for unwary adventurers, or just harmless mummified remains.
Hunting animals in the fields of Skyrim.
Aura Whisper has a range of 300ft indoors and 500ft outdoors.
Word Wall Translations
[
edit
]
Thu'um
Word Wall
Translation
Transliteration
Laas
NAU D1R REVAK GOLT DR9 FREDO
Z4R4M3K EK

L1S

FUL TOL EK
POG1N K3R FILOK 4RK OSOS
SUL Q4N1R EK HOKORON
On this sacred ground did Freda
sacrifice her

life

, so that her
many children (might) escape, and some
day vanquish her enemies.
NAU DaaR REVAK GOLT DRey FREDO
ZahRahMiiK EK

LaaS

FUL TOL EK
POGaaN KiiR FILOK ahRK OSOS
SUL QahNaaR EK HOKORON
Yah
HET NOK YNGNAVAR G1F-KOD1V
WO DR9

Y4

MORO NAU FROD
DO KROSIS NUZ SINON
S3V DINOK 4RK DUK1N
Here lies Yngnavar Ghost-Bear,
who did

seek

glory on (the) Battlefield
of Sorrows, but instead
found death and dishonor.
HET NOK YNGNAVAR GaaF-KODaaV
WO DRey

Yah

MORO NAU FROD
DO KROSIS NUZ SINON
SiiV DINOK ahRK DUKaaN
Nir
HET M4 F1SNU RON1N
UNDVELD 1R
KR3D GROH3K 4RK DROG
DO LOT

N7

Here fell (the) fearless archer
Undveld, servant,
slayer (of) wolves, and lord
of (the) Great

Hunt

.
HET Mah FaaSNU RONaaN
UNDVELD aaR
KRiiD GROHiiK ahRK DROG
DO LOT

Nir
If you learn the first word of the shout at Northwind Summit or Volunruud and then go to Valthume, you'll learn the third word next, but it won't appear in the shouts list because the second word hasn't been learned. After this, the word wall for the second word in the remaining location won't work at all (the word wall sound effects are played, but nothing happens when it is approached).
Sometimes after using the Aura Whisper shout, various visual effects may be permanently applied to your character, such as draugr eyes. Text saying "was equipped" may accompany the adding of the effects.
This may be fixed by transforming into a Werewolf or Vampire Lord.
You can fix your character's eyes by opening the console and using the following command: player.addspell 000f71d1. Close the console, then reopen the console and enter the following command: player.removespell 000f71d1. Note that this fix may not work in third person view, so try to do it in first person.