Online:Anvil
The UESPWiki – Your source for The Elder Scrolls since 1995
Explorable
Discoverable
Yes
Completion
None
Zone
Gold Coast
Location
Southwestern Gold Coast
Services
Houses
Other Buildings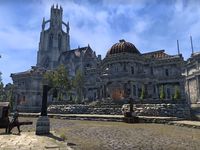 Anvil is a major settlement on the Gold Coast of Cyrodiil. The city was taken by Governor Fortunata ap Dugal and her Red Sails pirates and was declared a free port. Anvil now claims dominion over the entire Gold Coast as a sovereign state. This is contested by Kvatch to the east, which still maintains Imperial loyalty despite the Empire's collapse.
A Bounty Board in Anvil offers daily delve quests.
If you enter Anvil from the north, you'll pass by the stable, which is next to a grocer. When you pass through the gate, you'll find yourself in a plaza with a tree growing in the middle. The smithy is on the west side of the street and the clothier's store on the east side. The local Mages Guildhall lies on the southwest side of the plaza, and the Fighters Guildhall is next door, on the southeast side. The carpenter lies east of the Fighters Guild. A Nord performer named Honrid the Magnificent juggles daggers in front of the smithy. A copy of Pirate Queen of the Gold Coast lies atop a bench next to the tree in the center of the plaza, across from the Mages Guild and the juggler. Three chickens stroll along the east side of the road.
If you head down the road east from this plaza, you'll see the Mermaid of Anvil beside a pond on the east side of the street (north of the carpenter). The Great Chapel of Dibella lies on the west side of the road heading south from the Mermaid. The Anvil Repository lies on the east side of this same road. The chapel also lies south of the guilds and the carpenter (behind the buildings). The temple can be accessed from road across from the bank, and the chapel's graveyard is on the west side. There is an entrance to Anvil's Outlaws Refuge in the graveyard behind the chapel.
Related Quests
[
edit
]
Shops and Services
[
edit
]
Transport Services
Other Places
[
edit
]
Wayshrine

[

edit

]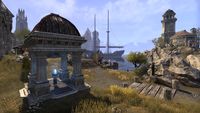 Anvil Wayshrine can be found on the western side of the city docks.
§
A creature and/or a NPC's pet
Gallery
[
edit
]