UESPWiki:ESO Guild
The UESPWiki – Your source for The Elder Scrolls since 1995
The United Explorers of Scholarly Pursuits is the official in-game guild of the UESP in Elder Scrolls Online. There are currently four branches, one for each PC server, one on the North American Xbox One server, and one on the European PlayStation 4 server. There is also a subforum for the official guilds on the UESP forum, found here, which is used for planning and advertising events, and can also be used to ask questions about the guilds. Members are encouraged to install the uespLog AddOn for a few useful utilities and to help collect game data for the site. The Alliance affiliations listed here only affect PvP; members of all Alliances are welcome to join UESP.
PC North American Guild
[
edit
]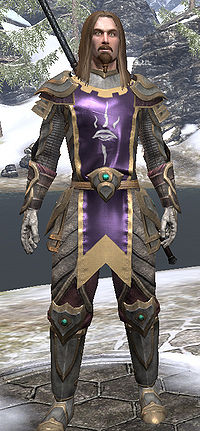 This guild is open to all administrators, editors, and users of the UESP to provide a place to meet up, talk about the game, the UESP, or life in general. If you need help with a quest or world boss, or want to run a group dungeon, just ask on chat. Information about our social activities can be found on our calendar or the in-game Message of the Day (MOTD). Members have access to a myriad of free services via our Guild Hall.
We are a very diverse group of people. Our members range in age from 16 to 60+ and hail from 5 continents. We are of different cultures, religions (including none), sexual orientations, and some have disabilities or long-term health conditions. There are only two rules you must observe: 1. real life comes first and 2. respect your fellow guildies, even if you disagree with them.
Server: North America
Platform: PC
Alliance: Daggerfall Covenant
Heraldry: Imperial Purple/Gold on Chevron 4 with a Silver Eye of Hermaeus Mora, representing the Daedric Prince of Knowledge and Memory. Gold represents the color of UESP site pages. The other two colors were chosen by a vote among Guild Members, with a deep purple being the most preferred/least disliked.
PC European Guild
[
edit
]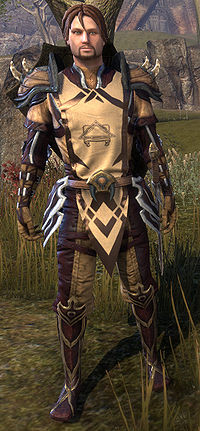 UESP
Server: Europe
Platform: PC/Mac
Alliance: Ebonheart Pact
Leader: @Legoless1 (Legoless)
Officers: @Enodoc (Enodoc), @MissKokane (MissKokane), @Talaront (Holomay), @SarthesArai (SarthesArai)
Purpose: EU equivalent of the NA guild.
Ranks: Doyen, Savant, Scholar, Pundit, Recruit, Naughty Corner
Heraldry: Yellow/Brown on Fang 5 with a Brown emblem of Julianos, the Aedric God of Wisdom and Logic. Colors were chosen to complement the wiki design.
PS4 European Guild
[
edit
]
UESP
Xbox North American Guild
[
edit
]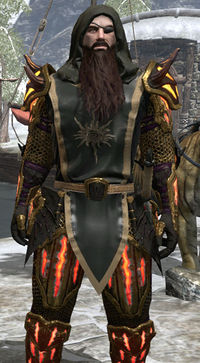 UESP
Server: North America
Platform: Xbox
Alliance: Aldmeri Dominion
Leader: @naga007 (Naga007)
Officers: @S Carver Orne (SCarverOrne), @Cannabisnomnom, @FioFioFio (FioFioFio), @pilotjimjones
Purpose: Xbox equivalent of the PC guild.
Ranks: Doyen, Savant, Professor, Acolyte, Scholar, Novice
Recruitment: Actively recruiting. More members will open opportunities for a guild trader, raffles, group activities, and more.
Heraldry: Black/Gold on Hilted 1 with a Gold Sunburst emblem. Gold represents the color of UESP site pages. Black complements the color choices of the PC guilds while providing its own unique variation.
TeamSpeak Server
[
edit
]
A TeamSpeak 3 server is available for use by anyone in any UESP guild:
Server: ts.uesp.net
Password: SothaSil
Userbox
[
edit
]
The following userbox can be used by members of an official UESP guild:
Template
Userbox
{{User ESO Guild|rank=a recruit|server=North American|system=PC}}

| | |
| --- | --- |
| | This user is a recruit of the UESP ESO guild on the North American PC server. |
Gallery
[
edit
]
NA PC/Mac Guild, First GUAR RAMPAGE, at the Abandoned Orchard in Cyrodiil, 28 March 2015

EU PC/Mac Pumpkin meetup, 18 December 2016