Online:The One That Got Away
The UESPWiki – Your source for The Elder Scrolls since 1995
This page is currently being rewritten as part of the Online Quest Project.
The page is being both written and checked. All users are welcome to make changes to the page. If you make a change that is relevant to the project, please update this template accordingly, and make sure you have observed the project guidelines.

Help Zeira with a personal matter.

Faction:
Thieves Guild
Quest Giver:
Note from Zeira in the Thieves Den
Location(s):
Marbruk (Greenshade); Haven Wayshrine, Volunidai's Manor (Grahtwood)
Shornhelm (Rivenspire); Aswala Stables Wayshrine, Volunidai's Manor (Alik'r Desert)
Stormhold (Shadowfen); Tal'Deic Grounds Wayshrine, Volunidai's Manor (Deshaan)
Abah's Landing
Prerequisites:
Thieves Guild Rank 10
Prerequisite Quest:
Prison Break
Reward:
Unidentified Bahraha's Curse Weapon
Pirharri the Smuggler
Average Leveled  Gold
10 Reputation
XP Gain:

Standard
A matter involving Nicolas requires the guild's attention, and Zeira wants me to handle it personally.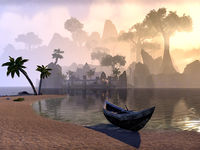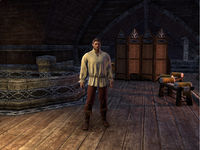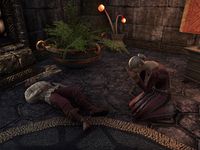 Quick Walkthrough
[
edit
]
Meet Zeira inside the Hew's Mane inn in Abah's Landing.
Speak to Chief Inspector Rhanbiq and obtain the key to his strongbox, located at the same location.
Speak to Bellulor Chatterbeak in the local Outlaws Refuge.
Travel to the wayshrine near Haven (Grahtwood), Aswala Stables (Alik'r Desert), or Tal'Deic Fortress (Deshaan).
Use the nearby rowboat to travel to manor house across the water.
Speak with Volunidai.
Find the entrance to manor's cellar.
Locate and confront your quarry.
Return to Hew's Mane and inform Zeira of your actions.
Detailed Walkthrough
[
edit
]
Soon after rescuing Zeira from the Iron Wheel, she will send you a note, requesting you meet her in Abah's Landing.
[PlayerName]:
"I have new information on Nicolas that requires your attention and discretion. Meet me at Hew's Mane, just off the Promenade in Abah's Landing.
—Zeira"
I should meet Zeira at Hew's Mane.
Quest Stages
[
edit
]
The One That Got Away
Finishes Quest
Journal Entry
I should meet Zeira at Hew's Mane, a tavern in Abah's Landing.

Objective: Talk to Zeira

Zeira suspects Nicolas escaped from the Iron Wheel. She learned of someone called the "Desert Falcon" who has been asking about Nicolas. She asked me to find and approach the Desert Falcon in the Greenshade city of Marbruk.
Zeira suspects Nicolas escaped from the Iron Wheel. She learned of someone called the ""Desert Falcon"" who has been asking about Nicolas. She asked me to find and approach the Desert Falcon in the Rivenspire city of Shornhelm.
Zeira suspects Nicolas escaped from the Iron Wheel. She learned of someone called the "Desert Falcon" who has been asking about Nicolas. She asked me to find and approach the Desert Falcon in the Shadowfen city of Stormhold.
The "Desert Falcon" is Rhanbiq, former Chief Inspector of the Iron Wheel! I should speak with him and learn his interest in this matter.

Objective: Talk to Rhanbiq

(If you convinced him to help)
Rhanbiq seemed willing to help. He provided me with a key to his strongbox, which contains all his notes on the trail Nicolas left behind.

Objective: Retrieve Rhanbiq's Notes

(If you failed to convince him)
Rhanbiq was unwilling to help. He also said I should stay away from his things. I should search them and see what I can find.

Objective: Search Rhanbiq's Things

Rhanbiq learned Nicolas was spotted in town. He suspects a local named Bellulor may know more, but has been unable to track him down. I should search for Bellulor in the Marbruk Outlaws Refuge, in Greenshade.
Rhanbiq learned Nicolas was spotted in town. He suspects a local named Bellulor may know more, but has been unable to track him down. I should search for Bellulor in the Shornhelm Outlaws Refuge, in Rivenspire.
Rhanbiq learned Nicolas was spotted in town. He suspects a local named Bellulor may know more, but has been unable to track him down. I should search for Bellulor in the Stormhold Outlaws Refuge, in Shadowfen.
I should speak with Bellulor. He may know where I can find Nicolas.

Objective: Talk to Bellulor

Bellulor confirmed Nicolas was in town with a High Elf he called "Volu." They were to be married when they returned to her manor in Grahtwood, somewhere near the city of Haven.
Bellulor confirmed Nicolas was in town with a High Elf he called "Volu." They were to be married when they returned to her manor in the Alik'r Desert, somewhere near the city of Sentinel.
Bellulor confirmed Nicolas was in town with a High Elf he called "Volu." They were to be married when they returned to her manor in Deshaan, somewhere near Tal'Deic Fortress.

Objective Hint: Find A Rowboat to Reach Nicolas' Hideaway

I located the manor belonging to Volunidai, the High Elf seen with Nicolas. I should speak with her and see what I can learn of his whereabouts.

Objective: Talk to Volunidai

Volunidai said her husband is an Imperial man named Vantus, not Nicolas. When I asked to speak with him, she insisted I leave. I should find a way into her manor.

Objective: Find a Way Into Volunidai's Manor

Nicolas and Vantus are the same person. I should decide what to do with him. Zeira left his fate to my discretion.

Objective: Confront Nicolas

(If you decided to ruin his marriage)
I decided Nicolas should lose everything important to him. I should speak with Volunidai and convince her that her husband isn't what he seems.

Objective: Tell Volunidai About Nicolas

(If you tell Nicolas to stay away from Abah's Landing)
Nicolas is unharmed. I should return to Abah's Landing and inform Zeira of his fate.

Objective: Report to Zeira

(If you choose to reveal Nicolas' secret and ruin him)
Nicolas is ruined. I should return to Abah's Landing and inform Zeira of his fate.

Objective: Report to Zeira

(If you kill Nicolas)
Nicolas is dead. I should return to Abah's Landing and inform Zeira of his fate.

Objective: Report to Zeira