Online:Master Kasan
The UESPWiki – Your source for The Elder Scrolls since 1995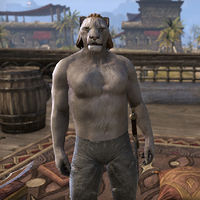 Master Kasan is a Khajiit who can initially be found on the deck of Captain Kaleen's ship, The Spearhead, in Port Hunding. He was Kaleen's mentor and former owner of The Spearhead, and while he acknowledges that Kaleen is strong, capable, and independent, he fears that her obsession with King Fahara'jad and the Daggerfall Covenant clouds her judgement. He participates in a few quests on Stros M'Kai and Betnikh.
Related Quests
[
edit
]
Dialogue
[
edit
]
Stros M'kai
[
edit
]
Betnikh
[
edit
]
Carzog's Demise
[
edit
]
Daggerfall
[
edit
]
Wayrest
[
edit
]
What Master Kasan says when he is met again in Wayrest, if the player didn't agree with Captain Kaleen in Carzog's Demise.
"You are brave to face Kaleen once more. I am glad you have come. She needs more around her who are not blinded by patriotism."
Is she still angry about the destruction of the relic?
"Indeed. The Aldmeri assault on Daggerfall did nothing to ease her feelings. She still believes that relic could have been of use.

Even if she is right, it needed to be destroyed. The power to consume souls should not exist."
If you disagree with her decision, why are you still here?
"There is no mystery. Kaleen is still my responsibility. She faces many enemies in this time of war.

As her mentor, I will fight beside her until we both die."
Sentinel
[
edit
]
Master Kasan can be found in the Fighter's Guild in Sentinel catching up with an old friend.
"This one greets you, five-clawed walker. Your reputation grows."
What brings you to the Fighters Guild, Kasan?
"An old friend. Years ago, when Kasan Five-Claw captained the Spearhead, Herald Falvo(sic) was one who hunted my kind.

"It is good to see him alive and well after all this time."
Good? Didn't you say he hunted you?
"There are smugglers, and there are those who hunt them. This is the way of things. Falvo was among the more respectable, and we owe each other much."
How so?
"Kasan was once marooned on an island. Let us say a few unclawed kittens took exception to this one's success. They also had the temerity to sink Falvo's ship."
And he survived?
"We both did, by working together. When we finally left the island, we agreed to a new relationship.

After the island, we were no longer hunter and hunted. We were friends."