Online:Antediluvian Vaults
The UESPWiki – Your source for The Elder Scrolls since 1995
Imperial Sewer:
Antediluvian Vaults


Discovery
(x2) Leveled XP
Skyshards
1
Occupants
Bone Flayer, Dremora Kyngald, Dremora Morikyn, Skeletal Berserker, Skeletal Defender, Skeletal Skirmisher, Scamp
Danrok the Insatiable, Entekkar the Soulgorger, Hoonzo-Gann, the Creeping Chill, Krosogar, Warden of Frozen Souls, Obb, Carver of Souls, Thrasotin the Ravenous Flame, Skalhexx the Cremator, Squale, Captor of Souls, Ukkawoon of Divine Ashes, Yx, Devourer of Souls, Zeffij, Incinerator of Souls, Zulagogg the Enkindler
Zone
Imperial City
Location
Northern Imperial Sewers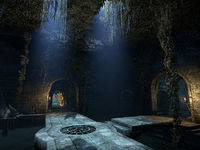 Antediluvian Vaults is a section of the Ebonheart Pact branch of the Imperial Sewers. It is approximately half-way between the Pact Base and the sewers' central hub, and connects to Harena Hypogeum and the Alessian Tombs.
Locations
[
edit
]
Members of the Coldharbour Elite Guard that patrol here spawn just outside Ebral the Betrayer's chamber. Cunning Scamps and Trove Scamps spawn in the chamber north of the Coldharbour Elite Guard spawn room. In this same room, you can find one chest at the top of the stairs and to the west, and another chest at the room's other exit, to the east.
Betrayer's Catacombs
[
edit
]
Xivkyn lord Ebral rallies his army of the undead.
Feeding Pits
[
edit
]
General Nazenaechar makes use of fallen Imperial citizens.
Points of Interest
[
edit
]
Gallery
[
edit
]