Lore:Dusk
The UESPWiki – Your source for The Elder Scrolls since 1995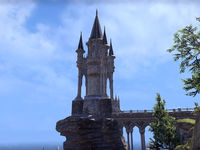 Dusk (formerly known as Dusk Keep[1] or the Tower of Dusk)[2] is one of the eight major city-states of the province of the Summerset Isles,[3] being situated on the southeastern point of the Summerset Isle. It acquired its name because when the sun sets behind the mountain, it leaves the tower in a shroud of shadows.[4]
Layout & Geography
[
edit
]
Dusk is located on the shores of Summerset Isle, hidden behind the southern mountains, only accessible through a narrow valley behind the town of Sil-Var-Woad. Dusk Keep is the only building in the area, and it overlooks the beach where the valley empties into the Eltheric Ocean. Buried deep in the mountains, west of Dusk lies the Colossal Aldmeri Grotto, a vast cavern with ancient ruins that once served as the High Elven navy's watering spot.[5] The area is known to contain a variety of Gryphon known as the Pale-Plume Gryphon, which are uncommon and live in the seaside cliffs of Dusk Keep.[2] Dusk is neighbored by several settlements, including Archen Grangrove in the west, and Silver Wood in the northeast.[3]
History
[
edit
]
For the longest time, the site where Dusk would be located contained nothing but Dusk Keep, an isolated tower that held some sort of magical containment. The tower's origins are unknown, and it would remain there for quite some time, as far as the late Interregnum.[1] During the time of the Second Aldmeri Dominion, in the ninth century of the Second Era, a port was built near Dusk Keep, which would then become the basis for the modern-day city-state of Dusk.[4]
During the Imperial Simulacrum in the late Third Era, the city-state of Dusk was an active settlement, being ruled by King Saura. It had a rivalry with Shimmerene.[6] By the Fourth Era, the city-state of Dusk would become a primary port for the East Empire Trading Company.[7]
Gallery
[
edit
]
Arena was originally conceived as a fighting game featuring a tournament that took the player to each of Tamriel's cities to challenge different gladiatorial teams. According to a file from that stage of development left behind in the final game, Dusk's gladiatorial team would have been called "the Executioners".[UOL 1]
In early cut drafts for ESO's south Summerset zone of Varyllis, Dusk was home to expert smiths known as the Scintillants, and the beaches of the city were subject to a Maormer invasion. The Maormer had also banished Auri-El from his place in the sky, so High Kinlady Astraela of Dusk helped in forging Phynaster's Ring from pieces of the Shattered Crown, which was spread throughout crypts in the city, to return the deity to his rightful place.[UOL 2]
References
[
edit
]
Note: the following references are not from official sources. They are included to provide a rounder background to this article, but may not reflect established lore.