Arena:Dusk
The UESPWiki – Your source for The Elder Scrolls since 1995
"You have entered the gates of Dusk, the High Elven city of Summurset. All who journey here know that we stand ready to meet you in friendship..."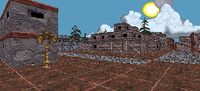 Dusk is a city-state located on the southeastern coast of the largest island of Summurset Isle, east of Sunhold. Its ruler is King Saura. Its rival is Shimmerene.
Locations
[
edit
]
Inns

Black Cup
Blue Chest
Crimson Pier
Dancing Tide
Devil's Ship
Devil's Tide
Green Anchor
Laughing Gibbet
Laughing Noose
Lucky Sailor's
Queen's Mug
Red Cup
Restless Galley
Silver Cutlass
Thirsty Albatross
White Dagger

Temples

Brotherhood of Charity
Brotherhood of Mercy
Brotherhood of Temperance
Conclave of Justice
Conclave of Truth
Order of the Knights of Hope
Order of the One Prophet
Order of the Red Rose

Stores

<random>'s Quality Supply Store
<random>'s Supply Store
Elite Accouterments
<random>'s Quality Armaments
New Provisions
New Supply Store
Rare Sundries
The Basic Equipment Store
The Emperor's Provisions
The Essential Sundries
The Wyrm's Equipment Store
The Wyrm's Gear Store
The Wyrm's Sundries
Unearthed Sundries
Vintage Gear Store
Vintage Weaponry Store
Dusk is a possible starting location for High Elves.