Skyrim:Character Creation
The UESPWiki – Your source for The Elder Scrolls since 1995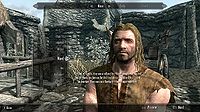 Creating your character is the first decision that you must make when playing Skyrim. Although you are presented with a wide variety of options for altering your character's appearance, the only decision that affects subsequent game play is your chosen race. Your character's capabilities are more strongly affected by how you choose to play the game (and by choices made when you level up) than by your initial character creation.
General Considerations
[
edit
]
The factors that you must decide upon are:
Main Article: Races
There are ten playable races to choose from:
When initially choosing a race, think about what type of class or classes you want to emulate foremost. If, for example, you want to steal and sneak attack your enemies without being detected, you should consider Khajiit for their initial stealth bonus and night vision powers. Or you could choose to be an Argonian, for their initial ability to pick locks better than any other race. Alternatively, if you would prefer to fight your enemies head on, a Nord, Orc, or Redguard may be preferable, due to their initial boosts to combat stats and natural resistances. Likewise, mage classes would find being a Breton or High Elf to be most beneficial, given their innate magical bonuses. If you want to be an archer or other marksman, you should choose the Wood Elf.

Unlike Oblivion, starting skills only matter in early gameplay (due to no 'Willpower' type attributes).
It can be difficult to level up certain thieving skills if your race does not have a bonus. Sneaking and Pickpocketing will fail very often early on, and failed attempts do not gain experience. Lockpicking will still gain experience on failed attempts, but the amount is minimal.
Most other skills such as magic or weaponry always succeed in earning experience when used against a valid target, and thus always give a skill experience, whether they start at 15 or 25.

Note also that race affects many other small factors in dialogue throughout the game.
Appearance
[
edit
]
Many aspects of your character's appearance can be customized, although they do not affect skills in any way as they are purely cosmetic:
Weight: increasing the weight slider increases your character's muscles
Skin color
Eye color
Hair color and style
War paint and/or tattoos (fur patterns for Khajiit)
Dirt presence
Scars
Beard (for male characters)
Jewelry such as earrings (for specific races)
Feathers/Horns (Argonians only)
Aside from the initial character creation, the only way to change your appearance is by becoming a vampire (automatic) or completing the quest Surgery (only available after the Dawnguard add-on is installed). The quest cannot be completed by vampires, and neither race nor gender can be changed.
Class Design
[
edit
]
Skyrim does not have classes. Race and sex selection are the only pregame choices of the player that affect gameplay. As previous installments of The Elder Scrolls have used classes as sets of skills, that term is somewhat still in use for a set of favored skills. When choosing a race, you're also choosing a set of skills that your character has initial bonuses to, and most likely, you're choosing this race because you've already chosen what play style you're going for. Skills go with these play styles, they are 'chosen' by simply using them, which is how they level up. Stats and perks conversely are chosen each time you level up. You can hurt yourself only by leveling up the wrong combinations of skills, gaining too high a level for your power too quickly.
The skills you use should work well together and complement your play style. An example of skills that work well together are Sneak and Pickpocket, since sneak helps you become undetected easier, and being undetected is very useful when picking pockets, because if you're successful you get the items you stole with no penalty. An example of skills that don't work well together are Heavy Armor and Light Armor, since carrying two sets of armor takes up a lot of your carry weight, wearing a combination of light and heavy armor takes away the benefits of certain perks, and you waste perks investing in both. The best thing to do when leveling up and deciding which skills to specialize in is just use common sense and think about how all your skills will interact.
An important decision to make when planning a character is how much stealth you want to use in combat, or if you even want to use it at all. Stealth means using the Sneak skill heavily and often relying on it to survive, since stealthy characters ideally focus on being nimble over being durable. Additionally a stealthy character shouldn't use two-handed weapons, as they make more noise which can cause you to be detected quickly, rarely use magic while sneaking until you get the Quiet Casting perk, and not have a follower, as they will generally not sneak well and will often rush blindly into enemies.
Another important decision is how much magic to use. A strictly magic-based character won't use any kind of armor or weapons and will rely on magic alone to survive. However you can mix magic with stealth or combat, for example a stealthy character can use Illusion spells to become invisible or make their enemies attack each other while they escape. Additionally a warrior character can use Restoration to heal themself and increase their overall durability, or use Destruction to augment their damage-dealing capabilities. However a stealth/magic or combat/magic hybrid will have to sacrifice other attributes and perks to be able to use magic effectively in conjunction with other skills, so plan ahead carefully.
It should also be noted that, by the end of the game, each character given the same skill levels will have similar proficiency with gameplay. Some race-related abilities (such as frost resistance or extra health/magicka) could aid in certain situations, but given enchanting and skill perks that remove negative associations with the skill (such as Heavy Armor's Conditioning), by end-game situations many races can be played similarly.