Skyrim:Skills
The UESPWiki – Your source for The Elder Scrolls since 1995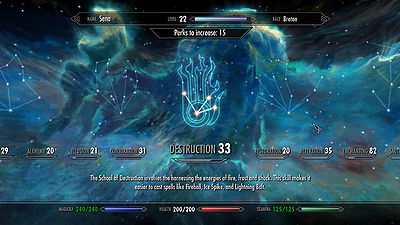 There are 18 skills in Skyrim, each of which determines how well various tasks can be performed. As skills are used, they increase in level, which increases the character's overall level. The starting value for most skills is 15, although each race confers bonuses to certain skills. Skills can also be increased by reading skill books, learning from trainers, or as a reward for completing certain quests.
Guards will often comment on your skills when you are near them.
† (Unique Perks/All Ranks)
Perks are a new feature in Skyrim. Each skill has its own associated perks, which can be unlocked when a character advances a level. 180 skill perks are available, 251 if including all ranks for each perk. The perks are all detailed on the individual skill pages, along with their requirements. One perk point is given to the character when the character's overall level increases. The maximum value for unused perk points is 255, four more than required for every perk. Leveling up with 255 unused perk points will cause the counter to roll back to zero and restart.
Most perks have both a skill level requirement and a prerequisite perk that must first be unlocked to make the perk available.
Skill Advancement
[
edit
]
The skill advancement mechanism differs between skills. For example, by selling higher value items to merchants, the player gains experience in their Speech skill. Smithing skill increases have been altered by Patch 1.5, they now increase more depending on value of forged equipment. When using a grindwheel or table, the amount by which the enhanced equipment value goes up defines how much experience is gained for it. With 90 smithing and 100% smithing enchanted gear, enhancing an ebony bow from base quality increases experience almost by an entire level. For more details, see each skill's article.
Trainers can help level up a skill for a maximum of five times per character level. Unused training sessions do not carry over to the next level.
For information on how to gain free skill boosts, see this page.
Legendary Skills
[
edit
]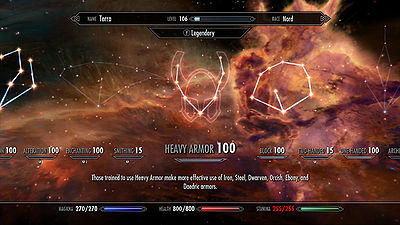 Version 1.9 of the Official Skyrim patch allows skills to be reset to their minimum of level 15 and subsequently retrained to gain further experience, while refunding any perk points allocated to that skill. Being able to gain extra experience this way, by leveling a skill from 15 to 100 twice (or more) instead of once, allows the player to exceed the previous level cap of 81, and eventually gain enough skill perks to have all the perks for all skills, at the cost of their current proficiency in the skill every time it is made "legendary". Each skill can be reset multiple times, and they will be marked with the symbol of the Imperial Dragon and a number indicating how many times it has been reset if done so multiple times. In order to unlock all skill perks, the player needs to reach level 252. For a level 81 player with all skills at 100, this requires skills be reset 147 times (or, on average, 8 or 9 resets of EACH skill - although it is better to reset some skills more often than others, and others only a few times or even not at all), with each skill that was reset brought back to level 100.
Note, however, that if the player ever reaches more than 255 unspent perk points, the number of perk points available rolls over to zero at 256 unspent points and starts over, causing you to lose those points.
Some things need to be borne in mind when making a skill Legendary.
Achievements
[
edit
]
Achievements related to skills are: