Online:Veiled Strike
The UESPWiki – Your source for The Elder Scrolls since 1995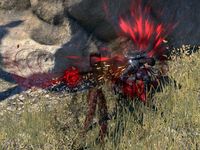 Veiled Strike deals Magic Damage to a single opponent, and causes them to become off balanced and stunned if you are invisible or in stealth mode. Its range is slightly greater than that of a melee attack, affording you a better chance of getting the stealth bonus without being detected. The Concealed Weapon morph increases your movement speed while stealthed or invisible, giving you an even greater chance of getting close enough without being seen. Alternatively, the Surprise Attack morph changes it to a Stamina cost, deals Physical Damage, and will reduce the enemy's armor, causing your subsequent attacks to do more damage.
As a stealth-based skill, it may be difficult to use while you are in a group or in an area where there are other players around, as many players tend to charge in and spoil the surprise. One way to counteract that is to use abilities such as Shadow Cloak or Consuming Darkness that can grant invisibility, allowing you to get the full benefit from Veiled Strike. You can also craft potions to give yourself the invisibility effect.
Concealed Weapon is a good morph for mobility. When combined with Dark Stalker, Shadow Cloak, and Cripple (on a target) it becomes a great escape maneuver.
Concealed Weapon is a recommended morph for the Nightblade Initiate build, while Surprise Attack is recommended for Umbral Assassin.
Patch Notes
[
edit
]