Skyrim:Silver Hand
The UESPWiki – Your source for The Elder Scrolls since 1995
This page or parts of this page were previously transcluded from lore pages per this discussion.
This page should be checked for potential unrelated lore and other information. Please remove this banner when the page has been cleaned up.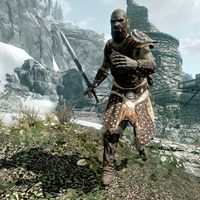 The Silver Hand are a group of werewolf hunters. They are enemies of the Companions, as they are aware that the mercenary group's elite inner circle are lycanthropes. Hunters affiliated with the Silver Hand are known to brandish Silver swords and seek to rid Skyrim of werewolves. However, while the Silver Hand solely hunts werewolves and members of the Companions, it is evident that the group is overzealous at best, and at worst is no better than a group of bandits, murdering unarmed civilians and torturing their captives, even those not suffering from lycanthropy. To spite the Companions, the Silver Hand also attempted to retrieve scattered pieces of Wuuthrad, the shattered axe of Ysgramor which was of great importance to them.
Even if you are not affiliated with the Companions or the Circle and are not a werewolf, the Silver Hand are hostile and will attack on sight, which makes the members of the faction function similar to regular bandits. It is not possible to join the Silver Hand faction.
Members
[
edit
]
Named Members
Generic Members
Silver Hand Leader

Silver Hand

Silver Hand Warrior (always a corpse)
18.75% chance of a drink
2 food items @ 7.5% chance each
3.75% chance of jewelry
11.25% chance of a Silver Ingot
2 potions @ 18.75% chance each
3 ingredients @ 18.75% chance each
7.5% chance of a book

73% one from the list: Songs of the Return, Vol 2, Songs of the Return, Vol 7, Songs of the Return, Vol 19, Songs of the Return, Vol 56
27% one from the list: Lycanthropic Legends of Skyrim, Physicalities of Werewolves, Songs of the Return, vol 24
Related Quests
[
edit
]
Locations
[
edit
]