Online:Shade of Galenwe
The UESPWiki – Your source for The Elder Scrolls since 1995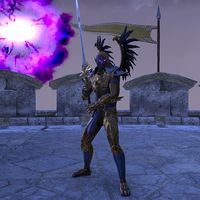 The Shade of Galenwe is a shadowy clone of the Welkynar Knight Galenwe, created by Z'Maja. He serves as an optional boss, though defeating him will make the battle with Z'Maja easier. He is initially seen kneeling with a slight forcefield and numerous Yaghra around him, and defeating those creatures will cause him to enter combat and summon his shadow gryphon, the Shade of Falarielle.
Related Quests
[
edit
]
Skills and Abilities
[
edit
]
Dialogue
[
edit
]
"You'll fall to my blade, like the rest of Cloudrest!"
"You'll regret this fight!"
"You think yourself worthy of my blade? Fools!!"
"Falarielle! Attack my foes!"
"Allow me to show you a gryphon's strength."
"Strike these knaves, Falarielle!"
"Unleash your freezing winds, Falarielle!"
"Falarielle! Unleash your icy ruin!"
"My gryphon shall freeze you where you stand!"
"Now isn't the time for death, Falarielle!"
"Rip them apart, Falarielle!"
"You'll pay for harming Falarielle!"
"Your death was long overdue." (If all party members die)
Upon defeat:
Shade of Galenwe: "Z'Maja will not ... be pleased."
Shade of Galenwe: "I lost? How … unlikely."
Z'Maja: "I suppose poor Galenwe wasn't so useful after all."
Galenwe: "How could I … be so … foolish?"
Olorime: "We'll avenge your death, Galenwe! I swear it!"