Online:Florentia Candidius
The UESPWiki – Your source for The Elder Scrolls since 1995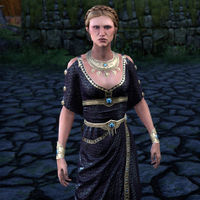 Florentia Candidius is an Imperial found in the starting and capital cities of each alliance, speaking to Zhiraz about the recent reports of dragons in Elsweyr. She is found inside the Elden Tree in Elden Root, near the wayshrine in Mournhold, and at the southwestern gate between the Guild Traders and the Undaunted Enclave in Wayrest. She can also be found south of the wayshrine in Vulkhel Guard, by the eastern gate in front of Davon's Watch, and (?) in Daggerfall.
Dialogue
[
edit
]
When approached, Florentia and Zhiraz will have the following conversation:
Florentia Candidius: "Can you believe it? Dragons! In your own homeland! What are you going to do?"
Zhiraz: "This one does not know, but he hopes his family is safe in Riverhold."
If you speak to her, she'll say one of the following to you:
"Oh, hello. Have you heard? A Baandari caravan came through and said Dragons were spotted in the Khajiiti homeland."
"I do so worry for the Khajiit. Do you think the rumors are true?"