Lore:Glenpoint
The UESPWiki – Your source for The Elder Scrolls since 1995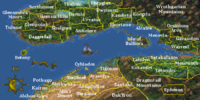 Glenpoint is an inland march of southwestern High Rock. It is surrounded by four other city-states: Northmoor to the north, the Ilessan Hills to the east, and Tulune and Glenumbra Moors to the west.[1] The Royal Family of Glenpoint is protected by the Knights of the Owl. The dominant vampire bloodline is the Vraseth, and the regional deity is Zenithar.[2]
The biggest city in this region is the city of Glenpoint. The city itself is neighbored by several settlements, including Ilessen Hills in the north, and Reich Gradkeep in the southwest.[3]
The province reached the apex of its power in 1E 609, at which point it was defeated by King Thagore of Daggerfall, making Daggerfall the preeminent power in the region - a position it has held ever since.[4] In the Third Era, Empress Kintyra Septim II was tricked into leading an Imperial Army to Glenpoint, where she was abducted and eventually murdered (allegedly with the help of the Duke of Glenpoint).[5][6] The exact year she was abducted and killed is debated,[7] but the people of Glenpoint, along with those of Glenumbra Moors, instigated an enormous manhunt for her killers in an event still remembered every Frost Fall during the Broken Diamonds holiday.[8]
During the Imperial Simulacrum in the late Third Era, the city of Glenpoint was ruled by Lady Carolyrrya. It had a rivalry with Reich Gradkeep.[9] During the Warp in the West, this region became a part of the kingdom of Daggerfall.[10]
Gallery
[
edit
]
See Also
[
edit
]
References
[
edit
]